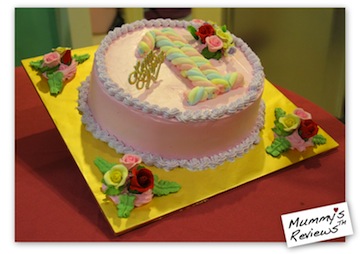 Jae celebrates his first birthday this month and officially enters toddlerhood! It's crazy how fast time flies by… I still remember vividly giving birth to him on my birthday eve last year (read his birth story here), and now, he's suddenly a walking-climbing toddler. Seriously, I think time zooms by faster with baby #2 because there's barely any time to think.
First Birthday Celebration
It was a simple evening affair with some close relatives at home. I wasn't adventurous enough to bake Jae's birthday cake (unlike for Vee's first birthday). A relative who bakes superb cakes made 2 for us. Yum yum!
We followed the tradition of letting the birthday boy crawl towards an object to reveal his interest. He sped towards the toy laptop. Kiasu Daddy made the boy crawl 2 more times, and he repeatedly chose the laptop. Oh great, we've got the next Bill Gates or Steve Jobs in the making.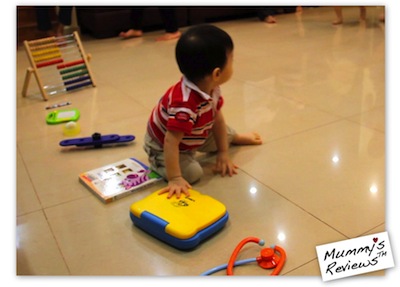 As usual, here's his developmental update from 9 to 12 months old:
Health, Diet & Feeding
He's still breastfed by latching on directly. After his birthday, I started weaning him off gradually to organic goat's milk formula. At about 18 months old, I'll progress him to fresh milk. The reason for this relative early weaning is that we're planning for baby #3. Yes, we're that crazy over babies.
During our Hong Kong trip, he ate Happy Baby organic baby food* (in convenient packages, great for travelling) and developed a red patch on his cheek and chin. Upon returning home and eating homecooked food, the rash disappeared. I suspect it's due to mango in a few packages — like me when I was young.
For his solid meals, he started showing new preferences for taste and texture. From about 11+ months old, he rejected his usual porridge, so I introduced him to what Vee and I eat at home, which is non-seasoned anyway, cut into smaller pieces. This means rice / noodles / pasta plus a wide range of vegetables, beans and fruits, and vegetable soup. He LOVES soup!
He loves finger-feeding himself his favourite foods such as Kallo's Organic Rice Cake and pears. Anything he doesn't really like (such as guava), he'll throw them onto the floor and attract an army of ants. Argh!!!
Once, he didn't poo for 2 days. On the third day, I added 1 teaspoon of Garden of Life organic coconut oil* to his cereal. After that, he'd poo-ed 3 times in a row! Haha… this is my secret weapon to counter constipation!
He's still rather petite, and have finally beat the 9kg mark.
Potty Training
We're still on pre-potty training (read detailed tips here), on a consistent basis and getting good progress.
Before bed and during most diaper changes, I plop him onto the potty. Often, he'll pee into it.
For poo, he usually does so upon waking up in the morning (while I'm brushing my teeth), so it's hard to catch him. If it's during the day and convenient, he's cooperative with pooping in the potty or the toilet bowl.
My main objectives here are to prevent diaper dependence, while encouraging flexibility in doing "business" in various locations. It's much easier to let a cooperative baby get used to sitting on a potty, compared to a busy toddler.
He continues to be cloth diapered full-time, including 12-hour nights, with no leak. (This is his night-time cloth diaper.) In contrast, he tried disposable diapers in Hong Kong, which leaked after about 8 hours. He breastfeeds several times at night, so probably pees through the night too.
Sleep
Jae is a good napper, thankfully! In the earlier months, he took 2 x 1.5-hour naps.
At about 11+ months old, he started pushing the second nap too late, so I let him stay awake for 5 hours before putting him down for a solid 2-hour nap, which he usually sleeps through very well. This allows me to have one-to-one time with Vee, for either some cuddling or quiet activities.
Night-time was a headache for several months — fussing to suckle every 2 hours at night and every 45-minute cycle after sunrise!!!
With Vee dropping his afternoon nap and the 2 boys having the same bedtime, I shifted Jae's cot to our bedroom so that I can settle him more easily.
On some nights, I'd urgent stuff to clear while Jae resisted hubby putting him to bed at night. To counter this, hubby put him in our soft structured carrier, and walked about until he slept.
Recently, he's much better, sleeping up to 3 hours for the first stretch, and needs to be rocked back to sleep at most once after sunrise.
The rest of Jae's homeschooling, communication and motor skills updates are posted at Mummy's Homeschool here.
With 2 active boys fully under my care in the day, my personal to-do list is growing longer than a train! I try to write after the boys sleep, on top of creating homeschooling materials, reading, and watching Youtube videos with hubby.
Upcoming reviews: a super-absorbent bed pad for nap / night-time potty-training, a breathable baby cot bumper, and a TCM massage system to help baby sleep better . Stay tuned!
—
P.S. View more developmental milestones here
P.P.S. Mummy's Reviews Facebook page has more than 1,680 likes! You're invited to "Like" our Facebook page here.
—
Disclosure: Mummy's Reviews™ is a review site that receives compensation if readers make purchases from affiliate links (these are marked with an *). If we receive compensation from the companies whose products we review, this would be disclosed. These compensation help to maintain and grow Mummy's Reviews™. We test each product thoroughly and give ratings according to our experience with it. We are independently owned and the opinions expressed here are our own.