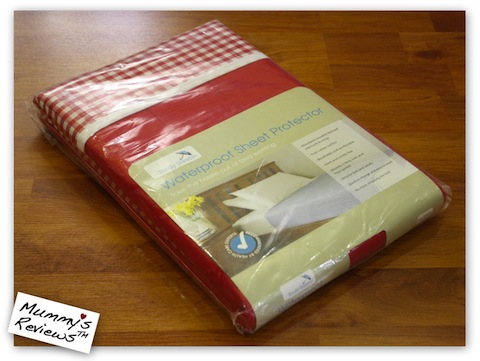 Potty training your child but worried about wetting the bed when he sleeps? Here's a review of Brolly Sheets provided by SMT Distributors. This super-absorbent and comfortable waterproof bed pad gives me the confidence to let Vee sleep diaper-less. He can pee all he likes while the mattress remains dry!
About Brolly Sheets
These are the main features:
Covering & Flaps: 100% cotton
Filling: 95% polyester, 5% rayon
Backing: 100% polyester backed polyurethane (PUL)
Capacity: Can hold just under 2 litres of liquid
Country of origin: Designed in New Zealand. Made in China
They're available in 3 sizes and several colors. This is the sizing guide from Brolly Sheet's website:
First Impressions
Vee has been day potty trained since 23 months old, but we got stuck at potty training during sleep. He refused to sleep without diapers for fear of wetting the bed; and I'm equally worried about the mess should he wet his mattress.
What's more, he's a super heavy wetter.
Earlier this year, we've tried out an absorbent bed pad. It absorbs very well, but slides about easily under our active boy, so we were on the look out for something better. When SMT Distributors invited us to review Brolly Sheets, I accepted the offer after reading positive testimonials.
Vee sleeps on a thick 13″ super single mattress placed on the floor. After measuring the mattress, I chose King Single. For the colour, Vee chose red — his all-time favourite.
Upon opening the package, we were happy with the smooth fabric, both on the 100% cotton top layer and the PUL backing. Here's a close-up look: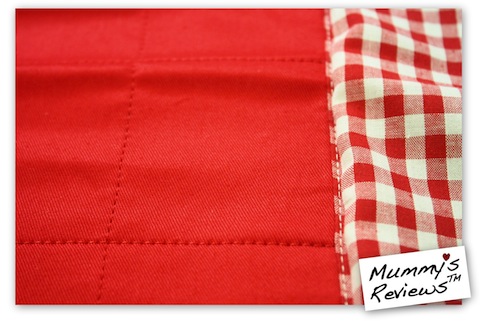 And here's how the Brolly Sheets look like on Vee's bed: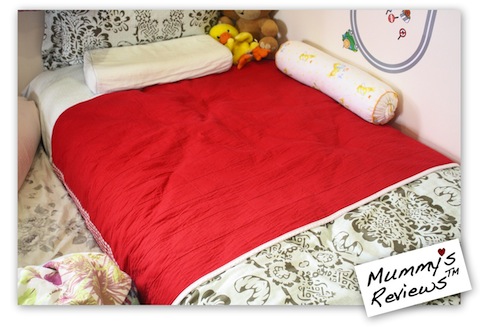 This boy must be dreaming to sleep in a FIRE ENGINE!
Our Detailed Review
Rating Guide: ★ Oh no!     ★★ Poor     ★★★ Fair     ★★★★ Good     ★★★★★ Excellent!
(a) Laundry: ★★★★ The Brolly Sheets can withstand cold or warm gentle wash. Since red fabric is prone to colour run, I hand washed the Brolly Sheets in cold water to check. There was slight colour run, which lightened upon three rinses.
For the next wash, I machine washed it separately with other red garments.
Nowadays, I simply throw it into the washing machine with our regular laundry including the kids' cloth diapers and clothes. After washing at 40°C, everything still turns out fine. Yippee!
(b) Ease of Use: ★★★★★ This is really a no-brainer. Simply lay the Brolly Sheets on the mattress, and tuck the flaps underneath.
(c) Performance: ★★★★★ The Brolly Sheets is very comfortable to sleep on, because of the 100% cotton lay at the top.
Also, it doesn't slide around even with an active boy rolling / flipping on it all night long.
– Nap-time Potty Training: With the absorbent bed pad on his mattress, I relaxingly cuddle up with Vee during afternoon nap / quiet time, while he's diaper-less. Sometimes, both of us fall asleep. On shorter naps, he wakes up dry, thus building his confidence.
During longer 2-hour naps, he pees BIG time onto the Brolly Sheets, wetting his top and underwear. Yet his mattress is completely protected and dry. Seeing this, he feels secure with the Brolly Sheets on his bed and is willing to nap diaper-less.
Without diapers on, he usually goes to the potty by himself 1 to 2 times before falling asleep. Previously, when he wore his usual cloth diapers for nap, he'd simply pee into them, even though he decided not to sleep on many afternoons. So far, we've been quite successful with nap-time potty training.
– Night-time Potty Training: This has been our biggest challenge because Vee sleeps 11-12 hours, is a super heavy wetter, and if he-the-lightest-sleeper-on-earth wakes up to pee / change diapers, he'll take up to 1 hour to fall asleep again.
On a few mornings, he said he was originally dry but pee-ed only upon waking up. This showed his readiness for night-training.
At night, when he's still rolling on the bed, he'll also deliberately pee into the diaper instead of going to the potty. I'll smell his cloth diaper and spot it straightaway.
Finally one night, I decided to take the plunge and told him that if he did that again, I'll change him into underwear, instead of another diaper. (My reason: it's the rainy season, and there's no more dry night-time cloth diaper, which was true.) Indeed, he still pee-ed into the diaper, so I put him on underwear.
I also taught him how to get up from bed to pee in the potty, wear his underwear and go back to bed. Amazingly, he was dry till the following morning!
The following 3 nights, he was ok with sleeping in underwear, but he pee-ed while sleeping. This meant changing him in the middle of the night on top of taking care of Jae who still isn't sleeping through the night. No fun at all, so Vee is back to cloth diapers at night again.
But now, he no longer pees into the diaper before falling asleep. He'll ask me to help him remove it, let him use the potty, then put it on for him again. Great improvement!
Since he's sleeping on Brolly Sheets, we'll pick up night-time training again once he shows more signs of readiness.
(d) Quality: ★★★★ The sewing and workmanship is excellent. I've been using the Brolly Sheets for 3+ months, not long enough to judge the long-term quality. I certainly hope to use it until all the kids are successfully potty trained at night.
(e) Overall Value: ★★★★ The price of Brolly Sheets ranges from SGD59.90 (Single) to SGD75.90 (Queen). In New Zealand, the retail price is from NZD46.95 to NZD62.95. During potty training, you'd need at least 2 to rotate. For the quality, comfort and convenience, it's certainly good value.
It's also suitable for nights during heavy menstrual or post-partum flow, and for those with incontinence.
The Brolly Sheets provides excellent protection for the bed during potty training, heavy menstrual / post-partum flow, and incontinence.
—
What we like about it:
Super-absorbent (just under 2 litres)
Comfortable top layer in 100% cotton
Soft, noiseless, breathable, waterproof PUL backing
No PVC, vinyl and formaldehyde
Machine washable
Stays still on mattress even with an active child
What can be improved:
Offer a choice of organic cotton fabric
Offer a choice of additional stay-dry layer (e.g. suede cloth) for comfort over long hours
—
Win Your Own — CLOSED
To thank supporters of Mummy's Reviews™ Parents Club, this Giveaway is EXCLUSIVE to Parents Club members. TWO (2) lucky members will win one Brolly Sheets worth at least SGD59.90 each!
How to Participate
1. Join Mummy's Reviews™ Parents Club here or below (existing members counted)

2. Fill in the online form HERE
Other Information
This Giveaway is open to subscribers with a mailing address in Singapore.
If you're a winner, the colour / design of your prize depends on the stock available.
It will run until 14 December 2012 (Friday) 2359hr (GMT +8).
The usual Giveaway Terms apply.
Submit your entry now and good luck!
Winners Announcement
Thank you to all of you who have participated in this Giveaway. The winners are …
Serena C. who chose "King Single – Red"
Tylia who chose "Queen – Blue"
Congratulations to you! You'd receive an email on how to claim your prize.
—
Get Your Own (with Discount!)
To get your own Brolly Sheets, visit SMT Distributors.
Special Treat: 10% discount
Discount Code: A002
Validity Period: Until 31 January 2013
Live outside Asia? You may also check the prices at Amazon here: Brolly Sheets
*
—
P.S. Read Potty Training tips below:
—
Disclosure: I received 1 Brolly Sheets from SMT Distributors for review. SMT Distributors is a banner ad sponsor at the time of publishing this review.
Mummy's Reviews™ is a review site that receives compensation if readers make purchases from affiliate links (these are marked with an *). If we receive compensation from the companies whose products we review, this would be disclosed. These compensation help to maintain and grow Mummy's Reviews™. We test each product thoroughly and give ratings according to our experience with it. We are independently owned and the opinions expressed here are our own.