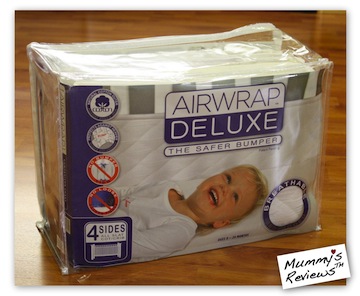 Today, I'm reviewing Airwrap Deluxe provided by SMT Distributors. This is a safer, breathable baby cot bumper instead of traditional ones that pose a suffocation risk. If you're planning to get a cot bumper for your precious baby, please consider a safer alternative like this one.
About Airwrap Deluxe
These are the main features:
Quilted outer & trim: 100% cotton
Inner mesh: 100% polyester
Country of origin: Designed in Australia. Made in China
More about the multi-layer technology: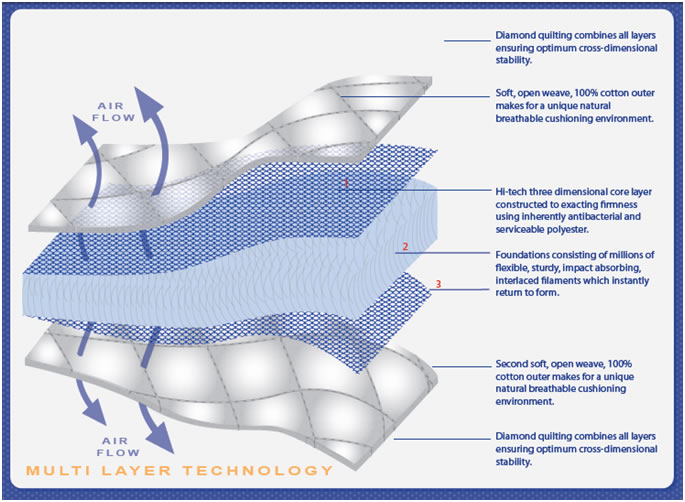 Airwrap Deluxe is available in 4-sides or 2-sides. There's also a non-padded version called Airwrap Mesh.
Are cot bumpers necessary?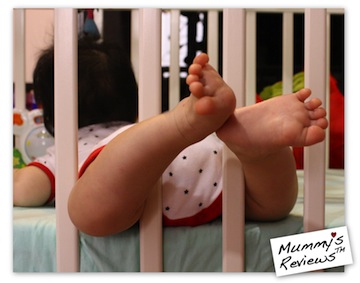 From about 3+ months old, Baby Jae flipped about like a roti prata during sleep and kept getting his arms and legs stuck between the cot rails. I persevered in not using traditional cot bumpers because:
They aren't breathable and pose a suffocation risk in the cot. I can't watch the baby every second when he's sleeping.
An older baby may step on the cot bumpers to attempt climbing out of the cot.
When SMT Distributors offered the Airwrap Deluxe for review, I was glad to know that it's the world's first multi-layered and patented technology incorporating superior padding, and a natural and breathable cot environment.
Often, I see baby cots tied with fluffy cot bumpers, either at friends' house or their photographs. I always respect others' parenting choices, and find it hard to share why I believe cot bumpers are potentially dangerous. At least by trying out a safer alternative such as the Airwrap, I hope to spread awareness of creating safer baby cot environments.
So before moving on with this review, I need to emphasise that I don't think cot bumpers are absolutely necessary. Every extra soft item in the cot poses an added risk to the baby when he's asleep and moving about without anyone watching him every second. If you must get a cot bumper, then do search for a safer alternative.
First Impressions
All 4 sides of our baby cot have rails, so we chose the 4-sides version of Airwrap Deluxe. It arrived in a huge zippered plastic package, with clear usage instructions.
I like that the Airwrap comes in plain white, complementing our baby cot and nursery furniture. No exciting colour or print means baby can tune down more easily for sleep.
It certainly feels well padded and sturdy.
Our Detailed Review
Rating Guide: ★ Oh no!     ★★ Poor     ★★★ Fair     ★★★★ Good     ★★★★★ Excellent!
(a) Laundry: ★★★★★ The Airwrap should be washed in cold machine gentle cycle or cold hand wash. High temperature could shrink the fabric and affect breathability, so it should be avoided.
I attached the velcro tabs and put the entire set into a laundry net for machine wash. Easy job!
(b) Ease of Use: ★★★★ Instead of ribbons (as in traditional cot bumpers), the Airwrap is secured with strong velcro tabs. There's 1 long piece to cover 3 sides of the cot, and 1 short piece to cover the drop-side. Simply weave the Airwrap between the cot rails, then attach the velcros.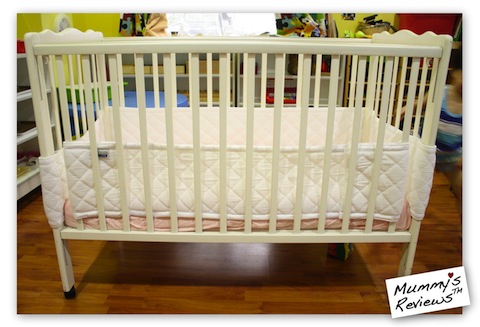 On hindsight, I'd prefer to fix the velcro tabs on the outside (rather than inside) so that the baby won't try to undo it.
(c) Performance: ★★★★★ After fitting the Airwrap Deluxe, Jae no longer gets his arms and legs stuck between the cot rails. (Nowadays, he uses a sleep bag at night, which can also keep his legs from getting stuck between the rails. The arms are exposed though.)
The padding is thick enough to cushion against bumps, though this isn't my main concern.
It's sturdy with breathable mesh, which is important for safety.
I can tuck it snugly between the cot rails and the mattress. It's stiff enough not to slide up or down easily, meaning no gap for potential entrapment.
The short piece moves easily with the drop-side rail. That is, even after I move the drop-side higher or lower, I don't need to adjust the Airwrap.
The Airwrap goes down very low when I press hard on it. This means Jae can't leverage on the cot bumper to climb higher. I can still put my hand through the cot rail to pat him if needed.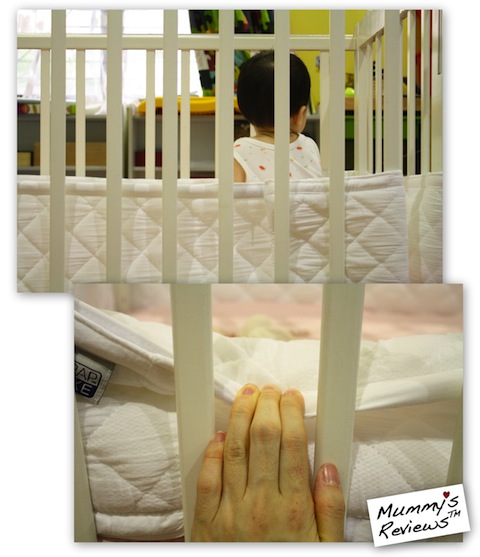 Some additional pros and cons after using the Airwrap:
Pros:
Block baby's view from distractions, so that he can tune down more easily for sleep. This is especially important when Vee isn't asleep yet while Jae is dozing off. If he sees Vee, he'll start babbling or even giggling.
Cons:
I can't see the baby when I lie down on the bed. I need to get up a little to check.
When baby is awake, he can't view the room environment unless he can sit or stand.
Summing up the above, the Airwrap has met my objective of letting Jae sleep better in the cot (without getting stuck) yet staying relatively safe, so I'm still using it. When he's able to remove his "stuck" arms by himself, it's time to remove the Airwrap from the cot too.
(d) Quality: ★★★★ The sewing and workmanship is excellent. I've been using the Airwrap Deluxe for 3+ months, not long enough to judge the long-term quality. It doesn't need to be washed very often, so I expect it to last a long time.
(e) Overall Value: ★★★ The price of Airwrap Deluxe ranges from SGD119.90 (2-Sides) to SGD139.90 (4-Sides). In Australia, the retail price is from AUD84.95 to AUD119.95.
Generally, I still find it safer not to use any cot bumper. However, when cot bumper is a "must", do consider a safer, breathable alternative such as the Airwrap instead of traditional fluffy ones.
—
What we like about it:
Padded mesh is breathable while preventing baby's limbs from getting stuck between cot rails
Outer layer and trim made of 100% cotton
Stiff enough not to move up or down against cot rails
In plain white, doesn't distract baby from sleeping
Machine washable
What can be improved:
Use cardboard or fabric (instead of plastic) to package product
—
Win Your Own — CLOSED
To thank supporters of Mummy's Reviews™ Parents Club, this Giveaway is EXCLUSIVE to Parents Club members. TWO (2) lucky members will win one Airwrap Deluxe worth at least SGD119.90 each!
How to Participate
1. Join Mummy's Reviews™ Parents Club here or below (existing members counted)
2. Fill in the online form HERE
Other Information
This Giveaway is open to subscribers with a mailing address in Singapore.
If you're a winner, the colour / design of your prize depends on the stock available.
It will run until 14 December 2012 (Friday) 2359hr (GMT +8).
The usual Giveaway Terms apply.
Submit your entry now and good luck!
Winners Announcement
Thank you to all of you who have participated in this Giveaway. The winners are …
Sau Cheng who chose "Airwrap Deluxe – 4 sides"
wing who chose "Airwrap Deluxe – 4 sides"
Congratulations to you! You'd receive an email on how to claim your prize.
—
Get Your Own (with Discount!)
To get your own Airwrap Deluxe, visit SMT Distributors.
Special Treat: 10% discount
Discount Code: A002
Validity Period: Until 31 January 2013
Live outside Asia? You may also check the prices at Amazon here: Airwrap – The Safer, Breathable Alternative to Cot Bumpers
*
—
P.S. Read 10 Ways to Keep Your Baby Cot Safe
—
Disclosure: I received 1 Airwrap Deluxe from SMT Distributors for review.
SMT Distributors is a banner ad sponsor at the time of publishing this review. Mummy's Reviews™ is a review site that receives compensation if readers make purchases from affiliate links (these are marked with an *). If we receive compensation from the companies whose products we review, this would be disclosed. These compensation help to maintain and grow Mummy's Reviews™. We test each product thoroughly and give ratings according to our experience with it. We are independently owned and the opinions expressed here are our own.