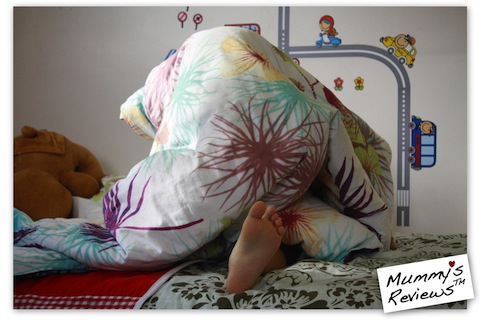 It has been a rather peaceful 3 months…
Health & Diet
Fortunately, after the febrile fits scare in the last update, Vee has been healthy over the past 3 months. This is one of my greatest blessings!
This foodie boy still enjoys eating, while being more selective nowadays. He dislikes onions, tomatoes (yet loves raw cherry tomatoes), dragon fruits, durians, the yellowish centre of papayas, skin of most foods, and basically anything that looks soft and slimy. Otherwise, he eats the same non-seasoned vegetarian food as me at home, and whatever hubby eats when we're out.
He loves cakes, tarts, lau sa pau (a type of dim sum), cookies, ice-cream and chocolates — just like me! Of course, I reserve our quota for these sweet treats to once in a while, and only good quality ones.
At the end of a wedding dinner we attended in Hong Kong, I asked him what his favourite dish was. And he said, "Watermelon!" Haha… all the gourmet food couldn't beat his favourite fruit!
Potty Training
Nap-time: Using an absorbent bed pad such as Brolly Sheets (reviewed here) has helped him succeed in this area. Before nap / quiet time, he'll use the toilet or potty. I'll place the potty near his mattress. When he rolls around on bed, he may use the potty another 1-2 times. If he falls asleep, he wakes up dry for short naps and may wet the bed pad for longer ones.
Night-time: When he's wearing cloth diapers, he occasionally pee-ed into them even before falling asleep. I'd to change him and remind him to use the potty. Then he tried going diaper-less for 4 nights, with 1 night of success. So he's back to wearing diapers again until he shows more readiness. At least, he has stopped pee-ing into the diapers before falling asleep. A small step forward.
Side tracking a bit here: During the Hong Kong trip, I wasn't sure of the washing facilities in the serviced apartment we rented, so the kids wore disposable diapers. Vee confirmed once again that cloth diapers are more comfortable! 🙂
Sleep
He naps an average of twice a week. On most afternoons, he's very energetic, so after Jae falls asleep, this is our quiet time routine: cuddling, recitation (for example, multiplication table, which he enjoys very much), silence practice (an important Montessori exercise that helps in self-discipline), some Montessori work or assist me in preparing new learning materials.
When he's finally knocked out at night, he sleeps very soundly. Hubby and I can't help feeling amazed how much our fussy high-need baby has changed.
In 2+ months, he'll turn 4 years old. Time really really flies…
—
P.S. Vee's homeschooling progress has been shared at Mummy's Homeschool here.
P.P.S. View more developmental milestones.
—
Disclosure: Mummy's Reviews™ is a review site that receives compensation if readers make purchases from affiliate links (these are marked with an *). If we receive compensation from the companies whose products we review, this would be disclosed. These compensation help to maintain and grow Mummy's Reviews™. We test each product thoroughly and give ratings according to our experience with it. We are independently owned and the opinions expressed here are our own.