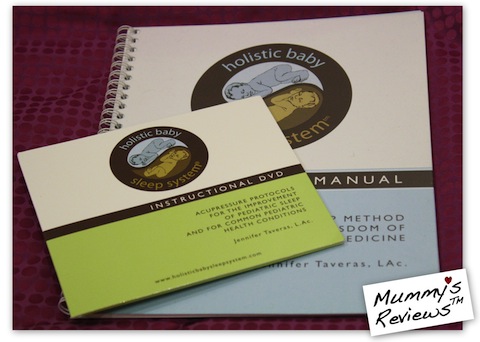 Today's review is on the Holistic Baby Sleep System. Need to help baby sleep longer and better? Then read on…
About Holistic Baby Sleep System
The Holistic Baby Sleep System is a non-invasive acupressure system for babies and toddlers that balances their circadian rhythms to help them sleep better.
It consists of 12 acupressure points that are stimulated over a 24-hour period using a completely non-invasive technique. Once sleep rhythms are optimised, then the 12 points can be used in 15 different  combinations to address common pediatric health complaints such as teething pain, constipation, cough and ear infections.
How to learn: DVD / Manual / Worksop
Developed by: Jennifer Taveras, L.Ac., a mother who has been practicing Traditional Chinese Medicine (TCM) since 2000 in New York City
Watch the DVD trailer at vimeo here: Holistic Baby Sleep System DVD Trailer
Our Sleeping Problem
Baby Jae started off sleeping rather well. He could fall asleep easily (sometimes all by himself, which I thought was miraculous!), slept easily anytime / anywhere, slept through 2 to 3 hours during nap, and slept through 3 to 4 hours at night.
BUT… Instead of sleeping through longer hours, he regressed. BIG TIME.
At about 5 months old, he started fussing in the middle of his nap, and EVERY 1 to 2 hours throughout the night. Needs to burp –> cry. Teething –> cry. Needs more comfort –> cry. It was a crazy period.
The review opportunity for the Holistic Baby Sleep System (HBSS) came along and I accepted it, literally with open arms. I've always been a believer of TCM, which helped me overcome my severe menstrual cramps. (Severe as in acute pain, vomitting, diarrhoea, fainting, and basically bed-ridden on the first day of my menses every alternate month. Almost like giving birth every 2 months.)
The HBSS is non-invasive and only involves massaging the relevant pressure points — suitable for use at home. It also complements gentle sleep practices, such as Elizabeth Pantley's No Cry Sleep Solution, which we've been using.
Since I couldn't attend the HBSS workshop (based in New York City), I opted for the DVD-and-Manual package to learn the method.
Our Detailed Review
Rating Guide: ★ Oh no!     ★★ Poor     ★★★ Fair     ★★★★ Good     ★★★★★ Excellent!
(a) Ease of Use: ★★★★ The instruction manual is spiral-bound, which makes it easy to refer to by laying it flat. I spent only a short while reading it, and the DVD took about 43 minutes.
The instructions are clear and easy to follow. You can press, rub or go in circles, as long as you're applying pressure around the correct point area.
Personally, I find the manual more important than the DVD for easy reference. The DVD illustrates more clearly how to do the acupressure, though I think the manual alone is clear enough too.
When using only fingers, it's recommended to do 2 minutes per point. When using a metal object, 1 minute per point is sufficient. For certain protocols (i.e. combination of pressure points), this means up to 12 minutes using fingers or 6 minutes using a metal object.
Vee (3+ years old) is very cooperative during the "massage" sessions and even looks forward to them.
Jae was cooperative as a baby. At about 1 year old, he became very active, and downright refused to stay still for the acupressure sessions. He didn't like it when I used a coin, while using fingers means twice the time needed. So I carried him, walked about while trying to massage the correct point. Definitely challenging.
For easy access to the materials, especially during middle of the night, I prepared a folder with these items:
the instruction manual
a 1-minute sand timer (OR my iPod Touch's stopwatch mode, OR sing "Twinkle Twinkle Little Star" 3 times)
a clean coin (to massage the pressure point)
a pencil (to update the log)
a booklight (to see better in a dark room)
This folder is very portable, and suitable to bring along during travels, to counter jet lag.
(b) Effectiveness: ★★★★ I completed the first round in July 2012, over a 24-hour period, then stopped for 6 days as per the manual.
The total number of hours Jae slept increased to ~14.5 hours, compared to the bad week of 12-13 hours just before the acupressure.
Naps definitely improved. As long as he was burped well before nap, he'd sleep 1.5 hours (full stretch) in the early afternoon and another 1.5 hours in the late afternoon.
Night time: He was better then regained fussing rather frequently, whenever teething bothered him. But he fussed with eyes closed, instead of being awake for a 0.5 to 1 hour stretch (which happened before the acupressure). It was easy to rock him back to sleep and put him down.
After 6 days, to get more improvement, I repeated the 24-hour acupressure cycle (as per the manual). Following that, naps continued to be good, while nights didn't improve.
Jennifer saw my blog post on Jae's fussiness from teething and emailed me to try out the protocol for teething. That was a crazy period in my life (fussy Jae, hubby with dengue, Vee with febrile fits, followed by both kids ill), so I can't remember if I tried that out. Oops!
What I remember is trying the combination for fever and cough on Vee after his febrile fits. He certainly recovered quickly, though I cannot simply attribute this to the acupressure.
I certainly like the specific combinations to tackle various common childhood conditions such as fever, constipation, diarrhoea, cough, colic, etc. These can be used when necessary.
(c) Quality: ★★★ The manual is printed on good quality paper, and spiral bound, to withstand frequent flipping. The DVD is very clear. Some protocols are not exactly the same in the DVD versus the manual. (I hope this has been addressed in the current revised version.)
The average sleeping hours for a baby is covered in the DVD but not in the manual. It zoomed by too quickly though, so I needed to pause to read it carefully.
(d) Overall Value: ★★★★ The prices of the HBSS manual and DVD are USD19.99 and USD29.99 respectively. The DVD-Manual package is priced at USD44.99. I don't know of any similar TCM system designed to improve baby's sleep. For the range of protocols available to improve children's sleep and tackle common conditions, I find these prices very reasonable.
HBSS is suitable for parents who need to help their babies sleep longer and better using a gentle method.
—
What we like about it:
Gentle way to help baby sleep better and complements our existing sleep practices
Easy to use — simply press / rub the relevant points
Effective — Baby Jae's sleep increased from 12-13 hours to about 14.5 hours, with 2 x 1.5 hours (full stretch) of nap
Instruction manual is portable for easy reference
What can be improved:
Ensure that the information in the DVD and manual are consistent
(Note: The new HBSS manual has been revised with improvements made. I've not read it though.)
—
Win Your Own — CLOSED
To thank supporters of Mummy's Reviews™ Parents Club, this Giveaway is EXCLUSIVE to Parents Club members. ONE (1) lucky member will win one DVD-Manual Package worth USD44.99 each!
How to Participate
1. Join Mummy's Reviews™ Parents Club here or below (existing members counted)
2. Fill in the online form HERE
Other Information
This Giveaway is open to subscribers with a mailing address worldwide (except in countries that don't allow participation in lucky draws / sweepstakes).
It will run until 25 January 2013 (Friday) 2359hr (GMT +8).
The usual Giveaway Terms apply.
Submit your entry now and good luck!
Winner Announcement
Thank you to all of you who have participated in this Giveaway. The winner is …
Tan Sher Lee who answered "12"
Congratulations to you! You'd receive an email on how to claim your prize. Please respond within 7 days or the prize would be passed to the next winner.
—
Get Your Own (with Discount!)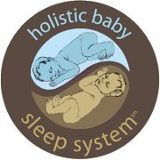 To get your own Holistic Baby Sleep System products (or attend the workshop at New York City), visit Holistic Baby Sleep System.
Special Treat: USD10 discount on DVD-Manual Package
Discount Code: MUMMYS
Validity Period: Until 28 February 2013
Note: Please contact Jennifer at jennifer [at] holisticbabysleepsystem [dot] com in case of any trouble purchasing from a foreign address and she can help you.
You may also find Holistic Baby at its Facebook page here: Holistic Baby Facebook page
—
P.S. Read more reviews and tips on baby sleep.
—
Disclosure: I received a Holistic Baby Sleep System DVD-Manual Package for review. Holistic Baby Sleep System will also be invoiced SGD15 to cover newsletter software subscription costs.
Mummy's Reviews™ is a review site that receives compensation if readers make purchases from affiliate links (these are marked with an *). If we receive compensation from the companies whose products we review, this would be disclosed. These compensation help to maintain and grow Mummy's Reviews™. We test each product thoroughly and give ratings according to our experience with it. We are independently owned and the opinions expressed here are our own.