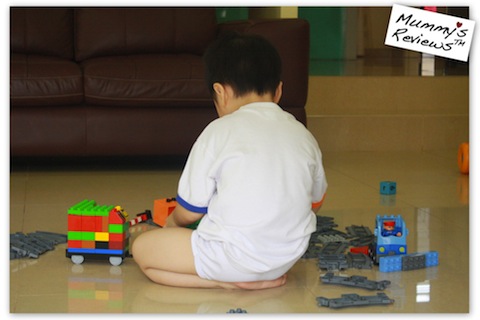 Little Vee just celebrated his 4th birthday! 4 years back, he was the super high-needs baby who couldn't sleep well from Day 1. (His birth story is here.) We were in for a tough ride overcoming his gassiness, fussiness, food allergy, ezcema and sleeping issues. And to share what we went through with you, Mummy's Reviews was started.
Amazingly, he's now 4, a vast change from that challenging newborn. Though his extreme sensitivities still remain, we've learnt how to manage them much better.
Health & Diet
In January, he'd a short episode of diarrhoea, recovered, then started coughing a little, recovering just in time for Lunar New Year celebrations. Oh, how he loves pineapple tarts! His quota is 1 per day till we finish the box, and he's very cooperative with sticking to it.
For his birthday, we knew he wanted a blueberry cheesecake. (He loves cheesecakes, like his Mummy.) So I secretly ordered one when we went shopping 2 weeks back. After a simple dinner at home, Daddy surprised him with the cake and he was all smiles. During the day, I drew him a birthday card (as promised) on a piece of red paper he chose. One cake and one card were all we gave him, yet he's so contented. 🙂
Potty Training
Many neighbourhoods in KL were plagued with water supply issues since January 2013. It was as bad as no water (except for 1 tap in the house) for several days. At times, water pipes burst in the neighbourhood every alternate day, and water could be cut off suddenly. We'd to minimise the laundry load, so potty training and cloth diapering were affected.
Nap-time: He usually doesn't nap. If he has to, he wears underwear while sleeping on an absorbent bed pad. If water supply is cut off, he has to wear disposable diapers, which he dislikes.
Night-time: Without an afternoon nap, he falls asleep very easily at night, so he no longer pees multiple times before falling asleep. Once he's asleep, he can hold his pee till early morning. By the time I change him, he has already wet his diapers. He explains to us that he can't control his bladder when he's asleep or just upon waking up.
Sleep
On afternoons when he doesn't need to nap, we continue to have quiet activities. Sometimes, he gets tired by dinner time, so he may turn hyper / loud / fussy / whiny / cries easily or all of these! This is when my headache starts, so we've to quickly get him through the bedtime routine (with lots of kisses and cuddles) and let him tune down. Once he's calm, he's knocked out within minutes, and sleeps for up to 12 hours straight.
During Lunar New Year, he said he wanted to sleep with SIL. Hubby got him through the bedtime routine in her room. At the moment hubby left the room, Vee said he changed his mind and started bursting into tears. Ha… guess he'd be sleeping in our room for some time!
Just for laugh

Vee: Mummy, when I grow up, you and Daddy will be old, I can't sleep with you anymore? So I'll need to find a wife to sleep with me?

Me: *chuckling* Yes, you may find a wife to sleep with you.

Vee: My wife will sleep with me and cuddle me? (Referring to his bedtime routine.)

Me: *trying badly not to LOL* Yes, you're right.

After a series of questions, he answered that his ideal wife will be "a female with long hair that's tied up, a bit shorter than him, slim, smells fragrant, cooks for him, and talks to him nicely."

In 20+ years' time, I shall see if my future daughter-in-law is as described. 🙂
Happy birthday to my dearest Vee. He's such a lovable boy.
—
P.S. Vee's homeschooling progress has been shared at Mummy's Homeschool here.
P.P.S. View more developmental milestones.
—
Disclosure: Mummy's Reviews™ is a review site that receives compensation if readers make purchases from affiliate links (these are marked with an *). If we receive compensation from the companies whose products we review, this would be disclosed. These compensation help to maintain and grow Mummy's Reviews™. We test each product thoroughly and give ratings according to our experience with it. We are independently owned and the opinions expressed here are our own.