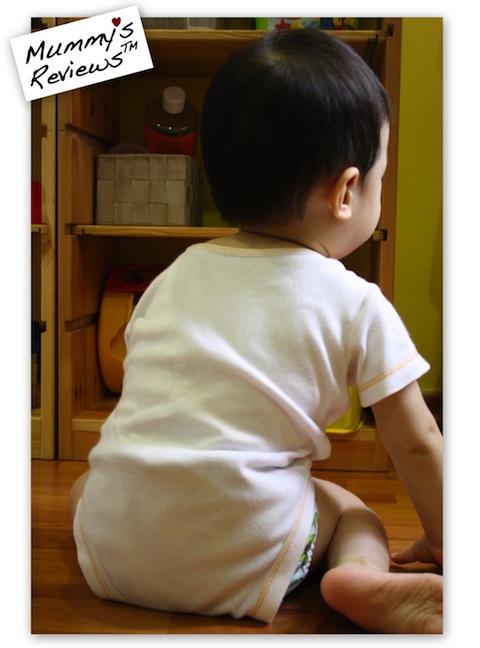 Jae turns 18 months old and has been a real joy at home…
Health, Diet & Feeding
Discharged from follow-up with cardio: This is the best news for us, regarding something we haven't shared before. At 1 week old, Jae was diagnosed with 2 small holes in the heart. Either they'd remain the same, close by themselves, or he faced ~50% chance of needing a future surgery to fix them. It was tough news to accept, yet we remain optimistic since he was otherwise a healthy baby. At the latest follow-up, it was double-confirmed that both holes have closed on their own and he need not see the cardio anymore. Yippie!
Milk: Mummy's milk is the best, yet I'd to wean him in order to conceive (not all mummies need to do this). After being weaned off breastfeeding, he was on organic goat's milk formula. Later on, I tried offering him fresh milk (or whole milk) but he was reluctant to drink it. I'd to come up with all kinds of "stunts", such as using a glass straw, which he accepted for a while and then rejected it again.
Nearer to 18 months old, I started switching him to organic cow's milk, which is slightly more economical than goat's milk, but still pricey. Next up, I'm going to try offering him warmed up fresh milk.
For his solid meals, he eats almost anything paired with his favourite boiled egg during lunch. Tomato-based pasta sauce and cherry tomatoes are a big hit too. Without eggs or tomatoes, he'd often scrutinise every spoonful and sometimes refuse to eat anything. So I'll try letting him hold an extra spoon, let him try feeding himself, let Daddy feed him, or turn his chair to face the wall and feed him (very last resort!). He hates potatoes, so would barely touch French fries, haha!
Self-feeding: He's good at using the fork to pick up pieces of fruits. When the mood arises, he's enthusiastic about feeding himself with a spoon too. He did it rather well once.
When we're out, I bring some wholemeal cereal flakes and a packet of Happy Baby Organic Superfoods* (~20% cheaper from iHerb than in the local supermarket), in case he refuses to share my food. He loves the one with green beans, pears and peas.
Thankfully, his previous problem of diarrhoea and frequent loose stools have stopped. I omitted "suspicious" foods such as dragonfruits (though he loves it). After being switched to cow's milk, he ended being a bit constipated on certain days, so I ensure he eats fruits daily.
Potty Training
Pre-potty training (read detailed tips here) is easier since he stopped having loose stools. His timing is more predictable and he needs to strain a little, so I can ask him before he goes. He's rather cooperative to sit on the potty and occasionally poos in it.
He doesn't initiate telling me before he poos, but will nod his head if I correctly suspect a soil diaper and ask him.
Recently, he'll pull at his diaper and say "da da", indicating he wants a diaper change, perhaps because he has wetted it. Sometimes, he'll also request to use the big toilet after watching me use it, perhaps to join in the "fun"?
Sleep
Jae continues to nap well, usually 2 to 2.5 hours in the afternoon. Ever since I've been pregnant with baby #3, I spend this time taking a super-long nap as well. I feel so blessed that this boy enjoys sleeping!
When we're out, he can sometimes fall asleep in the stroller or car seat. Otherwise, Daddy continues to babywear him for outside naps.
He has been sleeping through the night these few months. This is great since I've been exhausted during the first trimester.
We moved him from the baby cot to a mattress on the floor, right beside ours. He likes it much better this way and will fall asleep by himself after some rolling around and touching his precious belly button. Sometimes, he'd crawl onto me in the middle of the night or early morning. After some patting, he can continue sleeping till the usual waking time.
Turning 1.5 years old is like a milestone by itself. Jae's imitating EVERY cheeky thing that his older brother does and seems to want to grow up real fast. This is a good thing as he'll be turning 2 years old when baby #3 arrives and I certainly need him to be as independent as possible. 🙂
The rest of Jae's homeschooling, communication and motor skills updates are posted at Mummy's Homeschool here.
—
P.S. View more developmental milestones here
—
Disclosure: Mummy's Reviews™ is a review site that receives compensation if readers make purchases from affiliate links (these are marked with an *). If we receive compensation from the companies whose products we review, this would be disclosed. These compensation help to maintain and grow Mummy's Reviews™. We test each product thoroughly and give ratings according to our experience with it. We are independently owned and the opinions expressed here are our own.