Here's a review of GroVia All-in-One Cloth Diaper, provided by Tiny Tapir. It's been ages since my last cloth diaper review and we've actually tried this GroVia AIO out for 2+ years.
This super-comfy diaper doubles up as pull-up pants during potty-training.
About GroVia AIO Cloth Diaper
These are the main features of the AIO diaper:
Outer fabric: 100% water resistant polyester TPU
Soaker: 100% organic cotton (1 attached, 1 small soaker can be snapped on)
Closures: 2 x 2 front rise snaps. 2 rows of 5

 waist snaps per side.

Country of origin: Made fairly & conscientiously in China
This is a one-size diaper available in several colours and prints. Below are the dimensions for the various rise settings:
| Rise Setting | Small | Mid | Unsnapped |
| --- | --- | --- | --- |
| Waist | 9″-22″ | 9″-22″ | 9″-22″ |
| Thighs | 5″-7″ | 6″-8″ | 7″-13″ |
| Rise | 13″-14″ | 15″-16″ | 16″-17″ |
First Impressions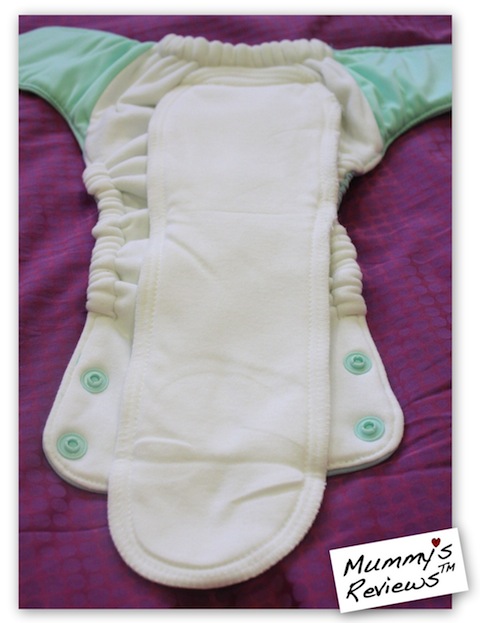 Most of the cloth diapers in my stash are pocket diapers, so this AIO is a refreshing addition. (Love the sweet colour!) The soaker is sewn to the diaper at the top, explaining why it's an All-in-One.
The organic cotton soaker isn't stay-dry, so it'd help a toddler feel wetness during potty-training. For babies who need a stay-dry layer, be prepared to add a washable stay-dry liner.
The TPU outer and organic cotton inner feel very soft and the side tabs are super-stretchy. A closer look at the inner cotton fabric: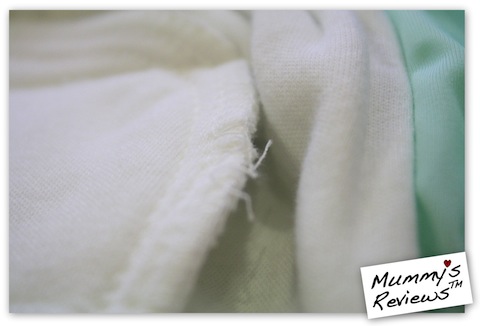 GroVia Warranty covers all manufacturing defects on its products for one full year from the date of purchase. More details on the GroVia Warranty here.
Our Detailed Review
Rating Guide: ★ Oh no!     ★★ Poor     ★★★ Fair     ★★★★ Good     ★★★★★ Excellent!
(a) Prewash & Laundry: ★★★★★ I prewashed the GroVia AIO by hand in warm water, and it started absorbing. A pleasant surprise since the instructions suggested washing on hot 5-6 times to "prep" the cotton before first use.
Note that the warranty would be void when the diaper is washed at water temperature exceeding 60ºC.
For normal laundry, the AIO's one-piece design means there's no need to handle separate inserts or soakers. The soaker dangles out from the diaper cover, which reduces drying time. It takes about 1+ days to dry when it's cloudy.
(b) Ease of Use: ★★★★ 3+ years ago when Vee was a chubby baby, I started liking side snapping diapers for the versatility of independent thigh and waist snap settings. GroVia AIO side snaps offer this advantage.
Once put on, it's very easy to pull up and down for potty-time, thanks to the super-stretchy side tabs.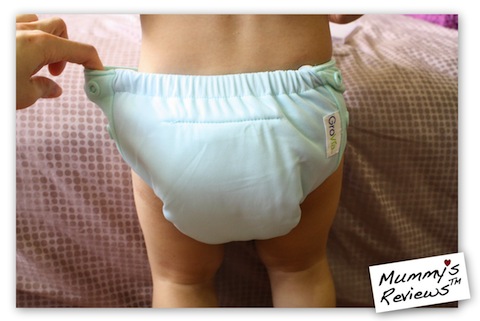 For longer hours or on young babies (not being potty-trained), I'd have to add a stay-dry fleece liner. To skip doing this, I prefer to use the GroVia AIO only during potty-training. I remember Vee wore this diaper rather often during day potty training. 18-months old Jae would be entering this phase soon.
(c) Fit / Trimness: ★★★★ Being a side-snapping diaper, GroVia AIO is very trim and fits well under pants.
When the lower rise button is snapped on, there's a tiny gap near the crotch (picture on the left below), which may lead to wicking. We've only used this diaper from toddler stage, so I'm not sure about this on smaller babies.

The elastics at the back and thighs are very gentle and comfortable.
Here's Jae parading in the AIO..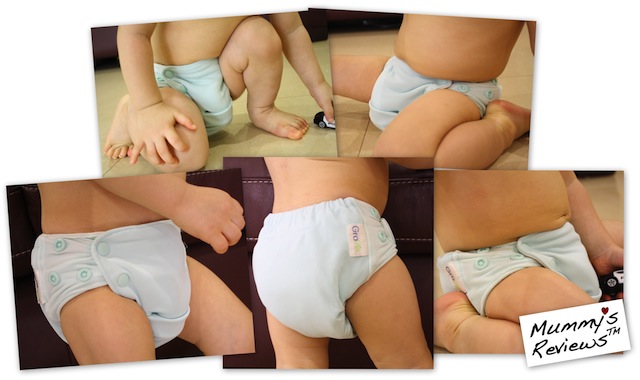 (d) Performance: ★★★★ So far, we haven't experienced any leak for daytime use. I usually change the child every 2 hours at home or after he pees. The cotton absorbs almost immediately, so there's low probability of leak due to repellent.
For longer hours or a heavier wetter, simply snap on the small booster.
We didn't get to test the diaper with poo because Vee was poo-trained by the time he tested this out.
(e) Quality: ★★★ The sewing and workmanship is fine. But after several months, the elastic at one side loosened, so the diaper was loose at the thigh area. I didn't bother sending it back to make a warranty claim, which should cover it.
Finally this year, I'd a stack of old diapers needing new elastics, so I sent it to one Mummy for repair. Now, it fits well again.
I certainly hope new batches of the diaper are using sturdier elastics.
Other than the elastics, the rest of the diaper remains fine after many washings.
(f) Overall Value: ★★★ Each GroVia AIO retails at RM80 in Malaysia. In the U.S., the suggested retail price is USD23.95. Depending on the location, the price is quite similar to other organic one-size AIO by U.S. brands.
We like to use the GroVia AIO as pull-up pants during potty training.
—
What we like about it:
Super-stretchy side tabs for easy pulling up and down
Gentle leg and back elastics
Soaker is made of organic cotton fabric
Dries rather quickly because the soaker dangles out from the diaper outer
What can be improved:
—
Win Your Own — CLOSED
To thank supporters of Mummy's Reviews™ Parents Club, this Giveaway is EXCLUSIVE to Parents Club members. TWO (2) lucky members will win one GroVia AIO Cloth Diaper worth RM80 each!
How to Participate
1. Join Mummy's Reviews™ Parents Club here or below (existing members counted)

2. Fill in the online form HERE
Other Information
This Giveaway is open to subscribers with a mailing address in Malaysia, Singapore, Thailand and The Philippines.
If you're a winner, the colour / design of your prize depends on the stock available.
It will run until 21 June 2013 (Friday) 2359hr (GMT +8).
The usual Giveaway Terms apply.
Submit your entry now and good luck!
Winners Announcement
Thank you to all of you who have participated in this Giveaway. The winners are …
Justina m. who chose "Owl"
H. Wanling who chose "Cosmos"
Congratulations to you! You've received an email on how to claim your prize. Please respond within 7 days or the prize will be passed on to the next winner.
—
Get Your Own (with Discount!)
To get your own GroVia AIO Cloth Diapers, visit Tiny Tapir.
Special Treat: 5% discount on GroVia AIO
How to Get Discount: Enter "MummysReviews" in the comments during check out and discount will be processed via email
Validity Period: Only 1 week until 17 June 2013
Live outside Asia? You may also check the price at Amazon here: GroVia All-In-One Cloth Diaper, One Size
*
—
P.S. Read more on Cloth Diapering tips HERE.
—
Disclosure: I received a Grovia AIO Cloth Diaper from Tiny Tapir for review.
Mummy's Reviews™ is a review site that receives compensation if readers make purchases from affiliate links (these are marked with an *). If we receive compensation from the companies whose products we review, this would be disclosed. These compensation help to maintain and grow Mummy's Reviews™. We test each product thoroughly and give ratings according to our experience with it. We are independently owned and the opinions expressed here are our own.
—
P.P.S. The winners for 2 previous giveaways have been announced. Please check out the Winners Announcement section here (Holistic Baby Sleep System) and here (cloth diapers & nursing tops).