After a long break while baking baby #3, here's a review of Angel Mel Collections Organic Bamboo Cuddly Buddies baby bibs. baby-mel.com provided me with a sample to review. Read on for the discount code and giveaway below…
About Angel Mel Collections Organic Bamboo Cuddly Buddies
These are the features of the Cuddly Buddies baby bibs:
Outer layer: (a) minky designer prints or (b) 100% cotton flannel fun prints
Inner layer: certified organic bamboo velour – natural colour, undyed
Fabrics pre-washed using chemical free washing method – The Green Pocket Laundry Ball
Fabric meets Oeko-Tex Standard 100, an international testing and certification system for textiles, with specified criteria for avoiding or limiting the use of harmful substance in production.
Closure: 2 snap buttons at the back
Origin: Designed and made in Malaysia
The innovative contoured design fits over an adult's shoulder to double up as a burp towel.
These Cuddles Buddies are available in a wide variety of fashionable prints.
First Impressions
When Jae was about 6 months old, I saw these Cuddly Buddies at a baby fair. Angelia, the owner of baby-mel.com, offered me a sample to review. I'm her regular customer and we've worked together on previous reviews, so I agreed to let Baby Jae give it a try.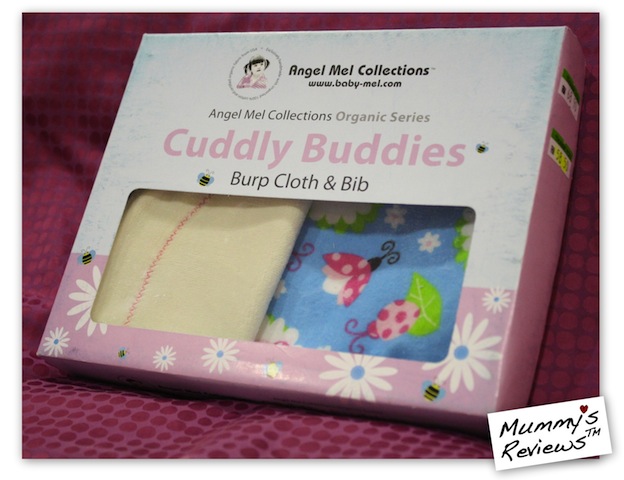 Packaging: The box is made from recycled paper and paper sourced from sustainable forestry. Something green mamas will like.
There's a wide range of designer prints and I'd a hard time choosing. Eventually, I selected a beautiful Lady Bugs print.
The front is made from cotton flannel and the back from organic bamboo. Both sides are super-soft.
I like the snap button closures because an older baby can't undo them easily (as compared to velcro). Also, snaps should last longer.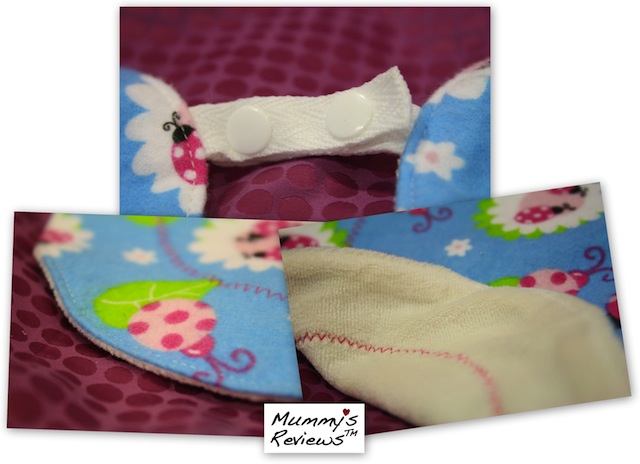 The bib is extremely wide, easily covering Baby Jae from shoulder to shoulder. This should catch lotsa of drool from my teething baby!
My Detailed Review
Rating Guide: ★ Oh no!     ★★ Poor     ★★★ Fair     ★★★★ Good     ★★★★★ Excellent!
(a) Laundry: ★★★★ The bib is machine or hand washable on cold. Since I only use it during weekend outings, I chose to handwash it and hang dry. Also, handwashing should help the fabric last longer.
(c) Effectiveness: ★★★★★

During the teething months, Baby Jae drooled a lot and loved to suck the straps of our ergonomic baby carrier. The baby carrier shouldn't be washed too often, so I used to place a large folded traditional nappy with prints over it. Of course, this didn't look nice at all.
Then came Cuddly Buddies! The wide bib could cover both carrier straps while catching Baby Jae's drool at the same time. With this dual-function bib, there's no need to make or buy carrier strap covers.
If you've a younger baby, you may also hang this bib over your shoulder when burping him / her.
(d) Quality: ★★★★ After several handwashes, the cotton flannel fabric became a bit fluffy. After months of use, the bib is generally in very good condition.
(e) Overall Value: ★★★ Each Angel Mel Collections Organic Bamboo Cuddly Buddies retails at RM68.90. The price is steep for a baby bib. Just that this isn't a normal baby bib. It's gorgeous, super-wide, multi-purpose, and made with certified organic bamboo fabric.
Great to have 1 to 2 for fashionable weekends or as a baby shower gift.
—
What I like about it:
Multi-purpose wide design – catch drool, burp cloth, cover baby carrier straps
Beautiful designer prints
Machine-washable for easy maintenance
Use snaps instead of velcro closures – baby can't remove it easily
What can be improved:
Position the label at the organic bamboo layer to hide it from view
—
Win Your Own – CLOSED
To thank supporters of Mummy's Reviews™ Parents Club, this Giveaway is EXCLUSIVE to Parents Club members. SIX (6) lucky members will win one Angel Mel Collections Organic Bamboo Cuddly Buddies worth RM68.90 each!
3 winners: from Singapore
3 winners: from Malaysia
How to Participate
1. Join Mummy's Reviews™ Parents Club here or below (existing members counted)

2. Fill in the online form HERE
Other Information
This Giveaway is open to subscribers with a mailing address in Singapore or Malaysia.
If you're a winner, the colour / design of your prize depends on the stock available and will be decided by the sponsor.
It will run until 4 October 2013 (Friday) 2359hr (GMT +8).
The usual Giveaway Terms apply.
Submit in your entry now and good luck!
—
Winners Announcement
Thank you to all of you who have participated in this Giveaway. The winners are …
Dayang D. who chose "HAPPY ANIMAL-PINK"
Sigappi S. who chose "HAPPY GIRAFFE-FLANNEL"
Molly L. who chose "HAPPY MONKEY-MINKY"
shia m. who chose "LAVENDER FAIRIES -FLANNEL "
Ruth Y. who chose "JUICY JUNGLE PINKY-FLANNEL"
Ling who chose "JUICY JUNGLE-GREEN FLANNEL"
Congratulations to you! You'd be receiving an email on how to claim your prize. Please respond within 7 days or the prize will be passed on to the next winner.
—
Get Your Own (with Discount!)
You may get your own Angel Mel Collections Organic Bamboo Cuddly Buddies at baby-mel.com (Malaysia):
Special Treat: 25% discount on Angel Mel Collections Organic Bamboo Cuddly Buddies
Discount Code: MR2013

Validity Period: From 23 September until 22 November 2013
—
Disclosure: I received one Angel Mel Collections Organic Bamboo Cuddly Buddies for review.
—
P.S. Catch previous reviews of Angel Mel Collections here.