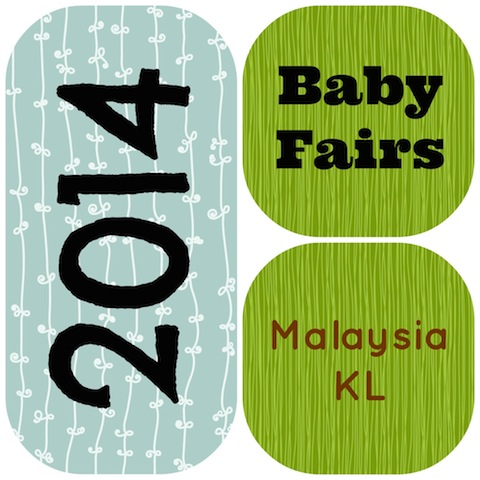 I'm compiling the lists of baby fairs in Singapore and Malaysia for Year 2014. First to be up is the list of baby fairs in Malaysia (Kuala Lumpur). It'll be updated as more information streams in. (Stay tuned for the baby fair list in Singapore.)
1. 7th Maternity & Children Expo
Dates: 24 to 26 January 2014
Time: 10a.m. to 9p.m.

Venue: Mid Valley Exhibition Centre Halls 1, 2 & 3
Organiser: The Concept Exhibition (M) Sdn Bhd
Website: TCE events page here
2. Motherhood Expo 2014
Dates: 28 February to 2 March 2014
Time: 10.30a.m. to 9p.m.
Venue: Kuala Lumpur Convention Centre (KLCC)
Organiser: Harenet Communications Sdn Bhd
Website: Harenet website here
3. Mom & Baby Expo 2014
Dates: 16 to 18 May 2014
Time: 10a.m. to 9.30p.m.

Venue: Mid Valley Exhibition Centre Halls 1, 2 & 3
Organiser: Today Publishing Sdn Bhd
Website: Mid Valley Exhibition Centre events page here
P.S. To get updates on the next Singapore & Malaysia (KL) baby fairs list and more, join Mummy's Reviews™ Parents Club now:
—
P.S.: List updated on 24 January 2014. This list is subject to change. Changes may not necessarily be reflected on this list. Please verify with information from the organiser / venue website.
—
You may be interested in these lists:
Upcoming: Book Fairs in Singapore & Malaysia (KL)
—

*
—
Disclosure: Mummy's Reviews™ is a review site that receives compensation if readers make purchases from affiliate links (these are marked with an *). If we receive compensation from the companies whose products we review, this would be disclosed. These compensation help to maintain and grow Mummy's Reviews™. We test each product thoroughly and give ratings according to our experience with it. We are independently owned and the opinions expressed here are our own.