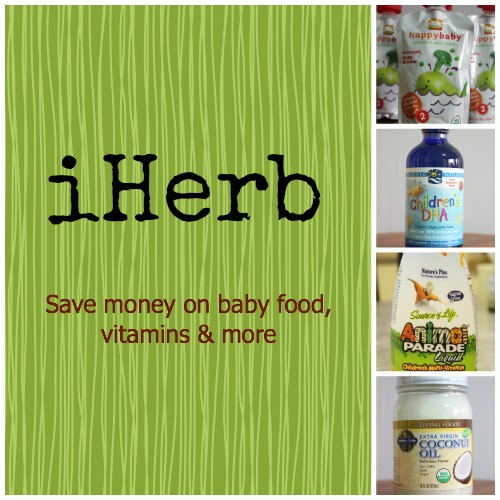 iHerb is still one of my favourite online stores, since my first order in 2010. If you want to save money buying organic baby food, vitamins and more for the whole family, this follow-up review is for you.
You'll also see my latest shopping carts filled with favorite items and you may use coupon code EWO013 to get up to USD10 off your first order. (Up to 28 February 2014, there's 10% off all orders.)
About iHerb
Here's a little background about iHerb:
History: An e-commerce business that has been running since 1996
What's on sale: One of the largest selections of high-quality nutritional products in the world. More than 35,000 products made by more than 1000 well-known, respected brands. At great value-for-money
Shipping: U.S. and international, with a range of shipping options
Country: Operates from a 360,000 sq. ft. air-conditioned warehouse in the city of Moreno Valley, California. Good Manufacturing Practices (GMP) facility following certification by NSF International
Our Detailed Review — My iHerb Experiences
Rating Guide: ★ Oh no! ★★ Poor ★★★ Fair ★★★★ Good ★★★★★ Excellent!
(a) Selection: ★★★★ The selection is huge where I can find suitable and high-quality skincare products (e.g. kids' toothpaste, baby body wash and shampoo) and vitamins. Often, these are items that are not easily available or more expensive locally.
After the previous review, there're still limited cloth diapers available. More please, iHerb… so that mums can try them out.
Hubby and I still use African Black Soap as a natural and effective facial wash. Now iHerb offers pure African Black Soap in liquid form (see it here*) but I prefer to get a soap bar and dilute it at home to save on packaging and shipping cost.
(b) Ease of Shopping: ★★★★★ As good as before. iHerb's website is very easy to navigate, with a smart search box.
The product information is very detailed with:
zoom-in images of information stated on the packaging,
product description and ingredients,
expiry date,
link to the manufacturer's website, and
reviews by other users
After more than 20 orders over almost 4 years, I'm happy to report that all items have met expectations. Of course, I did my homework before buying a new product, by reading many reviews and comparing options.
Nowadays, I usually re-order the same items, so the re-ordering function saves me lots of time.
(c) Payment & Delivery: Payment is very easy via credit card, through a secure page with SSL.
Regarding packaging: Bottle caps / pumps are covered with tape, then bottles placed in individual plastic zipper bags (that can be reused). Each fragile glass bottle is packed in a thick mini egg carton. Very reliable packaging.
As for shipping, there's a VAST difference now between shipping to Singapore versus shipping to Malaysia (Kuala Lumpur). Sending my purchases to Singapore win DOUBLE. HANDS. DOWN.
Shipping to Singapore ★★★★★
(a) Direct delivery through Singapore Post:
Flat USD4.00
Weight: up to 14 pounds (6350 grams)
Value: up to $200.00, OK for P.O. Box
Takes 4-8 business days, with tracking number
Only for consumers, not for re-sellers
Since I'm visiting my parents in Singapore in a few weeks, I just submitted an order via this method. The shipping fee is very attractive.
(b) DHL Express International (for faster delivery):
USD8.00 for 8 pounds
$1.00 for each additional pound
Usually takes 2-4 days, with tracking number
Not for P.O. (post office) box. Max 150 lbs.
During my last stay in Singapore in December 2013, I realised that shipping from iHerb to Singapore is much cheaper and reliable than to KL, so I made a last-minute order using this method. The parcel arrived on time, as what I'd expect from DHL.
Shipping to Kuala Lumpur (Malaysia) ★★★★
(a) Global Priority Mail by DHL:
Flat USD4.00
Orders up to $80.00, and 4 pounds (1814 grams)
Usually Takes 1-4 weeks, 10 days to Europe and Pacific
2-12 weeks to Russia and Brazil
No Tracking & Non-refundable
The weight limit is very low, so I used to split packages into about 4 pounds each. In the past, they arrived in about 2 weeks. But from August 2013, they took much longer. I'd one parcel reach after 4 weeks, one after 6 weeks, and one didn't even reach after half a year!
I subscribe to a branded mailbox service in town (open from 10a.m. to 10p.m. every day including public holidays) to receive my parcels, so having a lost mail is unacceptable. iHerb explained Global Priority Mail as this: "DHL will pick up your order from our warehouse, and then pass it to your individual countries' postal service for final delivery." So it could be the local postal service which is unreliable.
Anyway, I sent iHerb a feedback and the customer service officer gave me a refund out of goodwill because this is my first lost parcel report over 20+ orders in 3+ years. I used the refunded amount to ship my re-order to Singapore instead.
(b) DHL Express International
Usually Takes 2-4 days, with tracking number
No P.O. (post office) box. Max 150 lbs.
Extra shipping discount for orders over $60.00
Also receive a minimum 5% off your order total if it is over $60.00
For my recent order (11.27lbs, 5.11kg, value USD134.53), the shipping fee is USD12 to Singapore vs USD14.48 to Malaysia. I like the high weight limit, but am concerned that Malaysian customs may check DHL packages, so I prefer to avoid this shipping mode.
I may experiment with this option in my next order and review its reliability.
(Update on 18 Dec 2016: I've since made 8 orders via DHL Express – International to Kuala Lumpur and all reached efficiently. Yippee!)
(d) Customer Service: ★★★★ On iHerb's website under "International", the estimated delivery time for Malaysia is stated as "16 days". It should be updated as "28 to 42 (with possibility of being lost)" based on my recent experiences.
Replies to emails are very efficient, within 1 working day when I tried.
(e) Overall Value: ★★★★★ Prices are attractive and there're often 5 to 10% discount for larger orders. With the new low-cost trackable shipping option to Singapore via SingPost, buying from iHerb is even more value-for-money than before.
Just an idea of the price differences: The kids' Nordic Naturals Children's DHA 16 fl. oz costs USD38.21 (~SGD48.36 / RM124.93) vs local retail price of SGD89.90.
Before delivering Baby El, I bought Earth Mama Angel Baby Organic Milkmaid Tea again. This time, at USD4.95 (about SGD6.27 / RM16.18). The retail price is SGD11.90 / RM41.90 with discounts at several online stores.
I'd continue to shop at iHerb for its wide variety of choices and superb value for money, while noting that shipping to Singapore is cheaper and more reliable than to Malaysia.
—
What we like about it:
Very wide selection of natural and/or organic products for the whole family
Detailed product information plus reviews by other users to help me make sound purchasing decisions
Easy-to-navigate website — ordering and payment is a breeze
Attractive prices and low delivery charges (to Singapore)
What can be improved:
Offer even more brands and products, such as more cloth diaper brands and pure African Black Soap
Update delivery estimate to Malaysia; seems longer than stated
—
My Latest Shopping Carts
Every item below is a re-order because we love using them:
For the full list of items in my latest shopping carts (orders placed on 26 February 2014 and 20 December 2013): CLICK HERE*
—
Get Your Own (with Discount!)
To start shopping, here's my coupon code for you:
Special Treat: USD5 off one order
Coupon Code in this link: PROMOJAN*
Validity Period: Tuesday, January 31st 2017, at 10.00 am, Pacific Time
—
P.S. If you've used DHL from iHerb to Malaysia (KL) regularly and find it reliable, do share in the comments box.
—
Disclosure: I've been a regular customer at iHerb since July 2010 and have joined iHerb's Rewards Program. This review is written after I've made more than 20 personal orders through iHerb and have been a satisfied customer.
Mummy's Reviews™ is a review site that receives compensation if readers make purchases from affiliate links (these are marked with an *). If we receive compensation from the companies whose products we review, this would be disclosed. These compensation help to maintain and grow Mummy's Reviews™. We test each product thoroughly and give ratings according to our experience with it. We are independently owned and the opinions expressed here are our own.