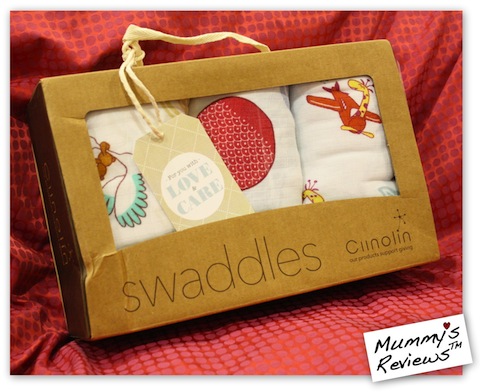 Today, I'm reviewing Ciinolin Muslin Swaddles, provided by Ciinolin. It's a set of soft and comfy swaddles that keep Baby El sleeping snugly AND soundly as I'm typing away.
After trying several types of swaddles on Vee and Jae, this is the first time I'm using large muslin wraps. They're much easier than I thought, on top of super-versatility. Here goes the review…
About Ciinolin Muslin Swaddles
These are the main features of the swaddle:
Fabric: 70% rayon from natural bamboo fibres, 30% cotton
Size: 47″ x 47″
Country of origin: Made in China (Designed in Malaysia)
The company is founded by Yin, a former banker, who's now Mummy to a little boy. I love supporting Mumpreneurs who try to balance family and work!
Also, Ciinolin supports giving: a portion of the sale of each box of swaddles will be donated to provide 6 underprivileged children in Myanmar with their own sets of school stationery.
First Impressions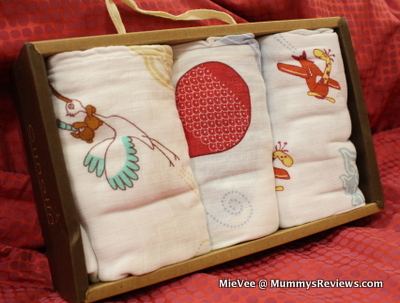 I chose the Cirebon Adventures prints because my older boys, Vee and Jae, love planes and hot air balloons. They arrived nicely packaged in a cardboard box, very presentable as a gift.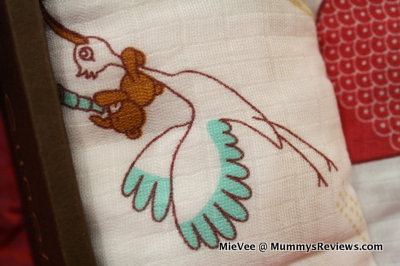 The print is very clear, with solid colours.
The fabric is thin and smooth, exactly what I'd put on delicate baby skin.
When I opened the swaddles up, oh my… they're huge! Much bigger than the square cloth nappies that I use to swaddle newborns.
Our Detailed Review
Rating Guide: ★ Oh no!     ★★ Poor     ★★★ Fair     ★★★★ Good     ★★★★★ Excellent!
(a) Laundry: ★★★★★ The instructions say "Wash in cool / cold water with like colours". Since I only do one load of warm 40°C wash daily, I include these swaddles and they've been turning out fine.
I do put them in a laundry net with other towels before washing.
They're very thin and open up for drying, so take only one sunny afternoon to dry.
(b) Ease of Use: ★★★ It takes several tries to learn the "art" of swaddling a baby snug enough for a good sleep. I've been doing this since Vee was a baby 5 years back, so it's rather easy for me.
For a new mum, you may refer to the 4-step pictorial guide behind the box. Since a baby sleeps many times a day, anyone can be an expert "swaddler" in a few days!
During breastfeeding, if Baby El's in a Ciinolin Muslin Swaddle, he may wriggle his arms out. After feeding, I'll swiftly swaddle him back to let him continue sleeping.
As a newborn, Baby El usually pooped at night and needed diaper changes. I'd need to unswaddle him, change, and re-swaddle again. He sleeps through diaper changes rather well, phew!
(c) Fit: ★★★★★ The size is very generous at 47″ by 47″. Even at 4.5 months old, Baby El still fits into the Ciinolin swaddles. Since most babies can be swaddled until they start rolling (about 3 to 6 months?), these muslin cloths should fit rather well.
Here are snapshots of Baby El taking naps in Ciinolin swaddles as he grows…

(d) Performance: ★★★★★The swaddle keeps Baby El's arms snugly by his sides or on his tummy, allowing him to sleep soundly. He's a bit like Vee — if his hands can reach his face, he'd start rubbing or sucking his fists and wake himself up. On the other hand, Jae could sleep with his hands beside his face.
For the record, with a Ciinolin swaddle, Baby El can sleep up to 2+ hours during nap, and from 9p.m. to 1a.m. before needing a feed. Of course, this differs from day to day.
In between feeds, if he stirs too much, I'd carry him up to burp or rock a bit, then put him down again. Snug swaddling makes it easy to let him continue sleeping more cycles.
These swaddles are also very versatile. I brought them during a recent trip to Sydney and have used them as:
Spare burp cloths (Baby El regurgitates several times after each feed and we need lots of cloths on hand.)
Nursing cover (He regurgitated all over my only nursing cover. Luckily, this Ciinolin swaddle is so huge that I can cover both of us adequately when feeding in public. It's very airy as a nursing cover.)
The beautiful prints are perfect for use outdoors.
When Baby El outgrows swaddling, the boys can have one each as a small blanket.
At this point, I'd like to highlight safety. As a Mummy co-sleeping with baby (in the same room or on the same mattress), I'm always near Baby El. Even when he naps, I'm doing stuff in front of his cot or just the next room and check on him once in a while.

When baby is a few months old, he may stretch his arms during sleep and be strong enough to undo the swaddle and potentially cover his face.

Therefore, please use muslin wraps on older babies only under close supervision. Actually, this is the same common sense principle as with all baby products. Always supervise baby closely, yah?
(e) Comfort: ★★★ The fabric is very soft and smooth. However, after folding down and wrapping around baby, there can be 6 layers of bamboo / cotton on him. This makes it rather warm in a hot afternoon without air-conditioning.
Moreover, Baby El perspires A LOT.
So when using this swaddle, I'll dress him only in a singlet and diaper. Then turn the air-con on to cool the room down, before turning it off. Thankfully we have a huge ceiling fan that keeps the room cool after that.
(f) Quality: ★★★★★ The sewing and workmanship is excellent. After washing them on rotation for 4 months, the swaddles still feel soft and smooth.
(g) Overall Value: ★★★★ Each Ciinolin 3-pack  Swaddle retails at USD45, with free shipping within West Malaysia. Initially, I thought it was high for 3 pieces of cloths. After 4.5 months, I realised the true value of 3 HUGE, beautiful, lasting and versatile cloths. They can be used for a long, long time at home.
Multi-purpose swaddles that keep baby sleeping soundly. Would make a great baby shower gift.
—
What we like about it:
Generous size — can swaddle baby even as he grows; big enough to use as nursing cover
Superb quality — last through many warm washes
Attractive prints — nice at home and great for outdoors
What can be improved:
Replace the stiff yellow label on each swaddle with a softer fabric
—
Win Your Own
To thank supporters of Mummy's Reviews™ Parents Club, this Giveaway is EXCLUSIVE to Parents Club members. FOUR (4) lucky members will win one box of Ciinolin 3-pack Swaddles worth USD45 each! (2 from Singapore and 2 from West Malaysia, 2 designs for each country)
How to Participate
1. Join Mummy's Reviews™ Parents Club here or below (existing members counted)

2. Fill in the online form HERE
Other Information
This Giveaway is open to subscribers with a mailing address in Singapore or West Malaysia.
If you're a winner, the colour / design of your prize depends on the stock available.
It will run until 4 April 2014 (Friday) 2359hr (GMT +8).
The usual Giveaway Terms apply.
Submit your entry now and good luck!
—
Get Your Own (with Discount!)
To get Ciinolin Muslin Swaddles for yourself or as gifts, visit Ciinolin.
Special Treat: 20% discount (not inclusive of shipping; shipping in West Malaysia is free)
Discount Code: C63B123DD7B5E97
Validity Period: 2 months until 24 May 2014
—
P.S. Read more reviews and tips on baby sleep.
Sharing time: Have you used a swaddle that you and your baby love? Feel free to share your experience in the comments section.
—
Disclosure: I received a box of Ciinolin 3-pack Swaddles for review.
Mummy's Reviews™ is a review site that receives compensation if readers make purchases from affiliate links (these are marked with an *). If we receive compensation from the companies whose products we review, this would be disclosed. These compensation help to maintain and grow Mummy's Reviews™. We test each product thoroughly and give ratings according to our experience with it. We are independently owned and the opinions expressed here are our own.