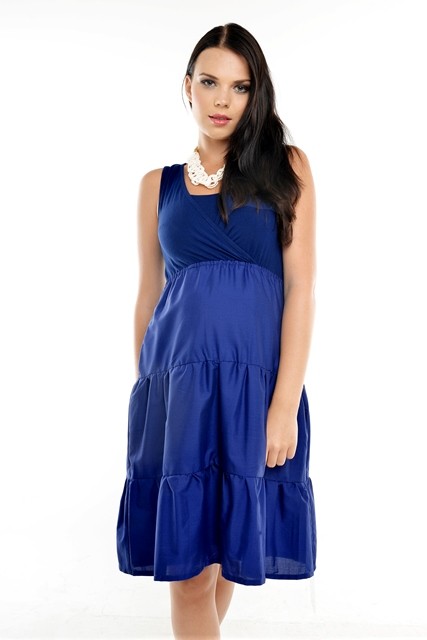 Need lovely maternity and nursing dresses? Check out today's Ubermums review…
About Ubermums

Here's a little background on Ubermums:
Started by: Edwina Eng, mother to a toddler and a baby (from Singapore)
What's HOT: DUO range that combines maternity apparel with nursing features — a practical and popular choice
Country of origin: Made all over the Asian region as different countries specialise in different fabrics
First Impressions
While breastfeeding Baby #3 (El), I'm still wearing Ubermums nursing clothes reviewed here and the nursing poncho is a must-have in my diaper bag.
This year, Ubermums provided me with 3 dresses to refresh my wardrobe during Lunar New Year. I chose Cadence DUO Maxi Dress in Plum, Marseille Tiered DUO Dress in Navy, and Issa Maternity & Nursing Dress in Fuchsia. (Left to right in the photos below)
Even during the peak Christmas week, the parcel arrived within a few days by normal mail. I was surprised! Still, I'd encourage registered mail unless you're flying out of Singapore in a rush (like I was).
Once the package arrived, I eagerly tried them on to show my arty farty sister. She likes Issa dress (1st on the right) the most.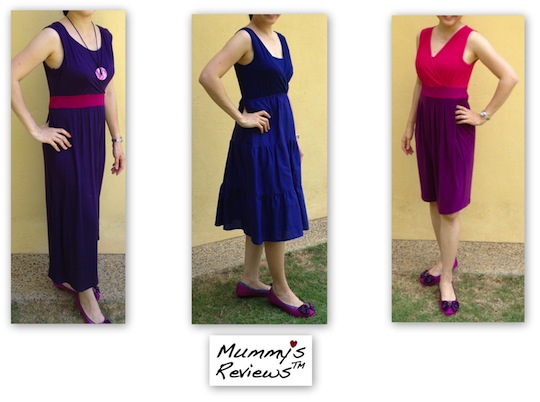 I'm soooo short! When Baby El starts walking well, I'll definitely be wearing high heels again!
Our Detailed Review – Ubermums Maternity / Nursing Dresses
Rating Guide: ★ Oh no!     ★★ Poor     ★★★ Fair     ★★★★ Good     ★★★★★ Excellent!
(a) Laundry: ★★★ The care instructions recommend handwashing in warm water under 30°C. This is fine because I prefer handwashing my nice dresses anyway. However, I think the label should omit the word "warm" for clarity.
There's no colour run after handwashing in cold water. I also hang them flat for drying to maintain their shape.
(b) Fit & Comfort: ★★★★★ Since size XS isn't offered, I chose size S like the last time and all 3 dresses fit me perfectly!
The bad news: I've "grown" after giving birth to 3 babies.
The good news: Yeah, no need to send for alteration! *Must think positive* 🙂
The waistline is made of stretchy material. Marseille in Navy (the dress in the middle) should be able to accommodate a bigger pregnancy bump than the other 2 dresses.

All the dresses are comfortable in our hot and humid weather, thanks to the sleeveless design and thin material.
Going off-point a bit: I used to get cold easily in air-conditioned places. After my first confinement, my body changed and I get warm easily. Love sleeveless or short-sleeved clothes.
If I'm really cold, I use the Ubermums nursing poncho to keep warm.
The simple designs are versatile for different occasions. Just pair up with different shoes and accessories. Ok, now I need more shoes and accessories. Heh…
(c) Ease of Use:★★★★★ Nursing is a breeze in these dresses. Simply push aside the neckline to the access the nursing openings in the inner layer. When in public, I usually nurse with the nursing poncho as well.
(d) Quality: ★★★★ Sewing and workmanship are excellent. I've worn each dress several times, still not enough to judge the long-term quality though.
(e) Overall Value: ★★★★★ The dresses retail between SGD59 to SGD63.90, which is a reasonable range for lovely and multi-functional dresses.
I love Ubermums nursing dresses! More designs, please…
—
What we like about them:
Lovely, simple and versatile design
Multi-purpose — 2-in-1 for maternity and nursing
Comfortable in hot and humid weather
What can be improved:
Omit the word "warm" in care instructions
More designs for beautiful nursing dresses, please… – There're many with floral prints. How about stripes? And more with slightly stiff fabric (instead of so many drape-types)?
—
Win Your Own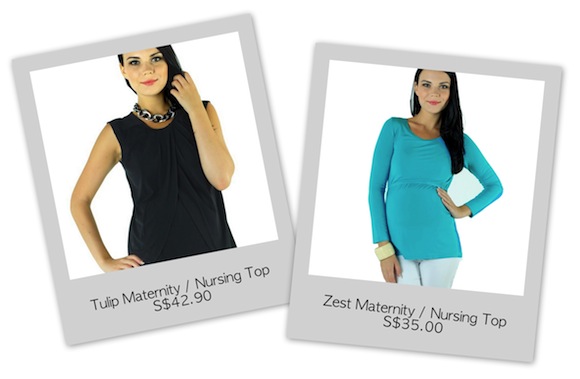 To thank supporters of Mummy's Reviews™ Parents Club, this Giveaway is EXCLUSIVE to Parents Club members. There will be TWO (2) lucky winners:
First Prize: Tulip Maternity and Nursing Top in Black worth SGD42.90
Second Prize: Zest Maternity and Nursing Top in Aqua worth SGD35
How to Participate
1. Join Mummy's Reviews™ Parents Club here or below (existing members counted)

2. Fill in the online form HERE
Other Information
This Giveaway is open to subscribers with a mailing address in Singapore. Otherwise, the winner may top up the shipping fee (for registered trackable mail via Singpost) via Paypal request.
If you're a winner, the colour / design of your prize depends on the stock available.
It will run until 11 April 2014 (Friday) 2359hr (GMT +8).
The usual Giveaway Terms apply.
Submit your entry now and good luck!
—
Get Your Own (with Discount!)
To get your own stylish and wearable maternity and nursing wear, visit Ubermums.
Special Treat: 15% discount
Discount Code: Mummy15
Validity Period: For 2 weeks until 13 April 2014
—
Disclosure: I received a Cadence DUO Maxi Dress in Plum, Marseille Tiered DUO Dress in Navy, and Issa Maternity & Nursing Dress in Fuchsia from Ubermums for review.
Mummy's Reviews™ is a review site that receives compensation if readers make purchases from affiliate links (these are marked with an *). If we receive compensation from the companies whose products we review, this would be disclosed. These compensation help to maintain and grow Mummy's Reviews™. We test each product thoroughly and give ratings according to our experience with it. We are independently owned and the opinions expressed here are our own.