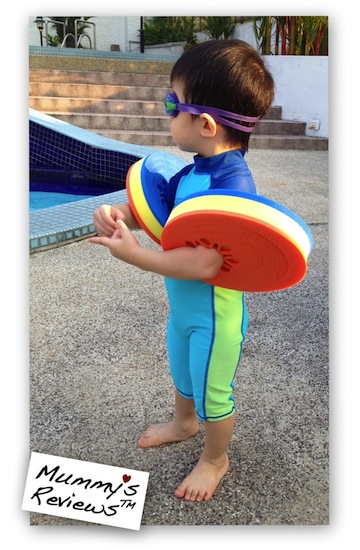 Today, I'm reviewing MonkeySwimmers armbands, provided by SMT Distributors (based in Singapore). These armbands are super comfortable and need no blowing. Our whole family loves them…
About MonkeySwimmers
These are the main features of the swimming armbands:
Material: Super-soft foam 

free of nasty chemicals. Fully recyclable when kids are done using them.

What else are included: A swimming bag, a story book "Monkeys Can't Swim", and a fold out progress chart
Country of origin: Designed by Mummy Donna Heaton, MonkeySwimmers made in the UK; bag made in China
Complies with Australian swimming standards AS 1900 – 2002
Our Story
Swimming is an important life skill that I need my kids to master. 5-year old Vee has been taking swimming lessons for a while and is finally learning to swim without a float.
2+-year old Jae is much more confident in water. Since he was 1+, we've been bringing him to the pool and letting his head go underwater for a short while.
We've a toddler swimming vest, which is fine during babyhood but rather bulky for toddler Jae.
Inflatable armbands are out for us cos they could contain PVC and blowing them up is such a hassle and makes me giddy. Then MonkeySwimmers came along for review and I thought they were a great idea!
First Impressions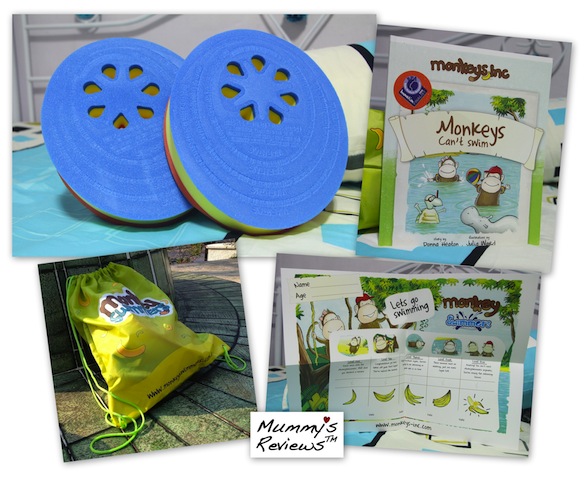 The MonkeySwimmers armbands are indeed made of super-soft and smooth foam.
They come with a bag, a book that motivates the child to learn swimming and a progress chart.
Our Detailed Review
Rating Guide: ★ Oh no!     ★★ Poor     ★★★ Fair     ★★★★ Good     ★★★★★ Excellent!
(a) Ease of Use: ★★★★★ Clear instructions are provided. Quite a no-brainer here. Just remove the star-shaped inner support, open up the armhole and get toddler Jae to slide his arm inside.
After swimming, just remove the MonkeySwimmers, stuff back the "stars" and put them into the swimming bag.
When the child is more confident in water, remove one layer to reduce the buoyancy. There are 3 layers that can be removed.
The thing to note about removing layers: it isn't recommended to add back the layers after removal, so can't remove them too early and can't reuse them for the next child.
(b) Fit: ★★★★★ The armhole size is stretchable and designed to fit children aged from age 1 onwards. They fit Jae wonderfully.
(c) Performance: ★★★★★ I love the slim design that allows Jae to move his arms freely in water. With these MonkeySwimmers, he has been growing even more confident in the pool. This video is taken a month back while he was still braving up to jump into the pool.
(Here's the link: http://youtu.be/yIaPzk0WlcM)
Noawadays, he doesn't want anyone to hold him and is happy to jump right in and paddle all by himself. Once, he forgot to wear the MonkeySwimmers, and simply jumped into the pool where Daddy was. He laughed it off with, "Hahaha… my face is sooooo wet!"
I think he's ready to have the first layer removed!
(e) Quality: ★★★★ We've been using the MonkeySwimmers for several months and they're still as good as new. Conservatively giving 4 stars here.
(f) Overall Value: ★★★ Each set of MonkeySwimmers retails at SGD55.90. Considering that this is a unique product that is even Daddy likes, and helps Jae swim confidently, it's reasonable value-for-money.
In order to reuse the MonkeySwimmers for Baby #3 El, I'm hoping that Jae can transit straight to swimming without armbands.
A great tool for young children who are learning to swim.
—
What we like about it:
Free of PVC and nasty chemicals
Slim design that allows the child to move freely in water
Very comfortable on the child
Easy to use — no blowing or deflating needed
What can be improved:
Would be even better if the layers can be reused for the next child
—
Win Your Own
To thank supporters of Mummy's Reviews™ Parents Club, this Giveaway is EXCLUSIVE to Parents Club members. THREE (3) lucky members will win one Monkey Swimmers worth SGD55.90 each!
How to Participate
1. Join Mummy's Reviews™ Parents Club here or below (existing members counted)
2. Fill in the online form HERE
Other Information
This Giveaway is open to subscribers with a mailing address in Singapore.
If you're a winner, the colour / design of your prize depends on the stock available.
It will run until 14 August 2014 (Friday) 2359hr (GMT +8).
The usual Giveaway Terms apply.
Submit your entry now and good luck! —
Get Your Own (with Discount!)
To get your own MonkeySwimmers, visit SMT Distributors (Singapore).
Special Treat: 10% discount
Discount Code: 

MS001

Validity Period: 3 months, until 11 November 2014
Residing out of Asia? You may also check the price at Amazon here: Monkey Swimmers Swimming Starter Kit
*
—
Disclosure: I received a set of Monkey Swimmers from SMT Distributors for review.
—

*
—
Mummy's Reviews™ is a review site that receives compensation if readers make purchases from affiliate links (these are marked with an *). If we receive compensation from the companies whose products we review, this would be disclosed. These compensation help to maintain and grow Mummy's Reviews™. We test each product thoroughly and give ratings according to our experience with it. We are independently owned and the opinions expressed here are our own.