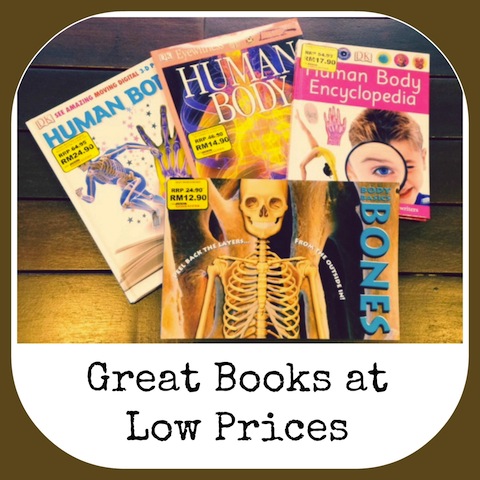 Here's a wonderful bookstore to share with you: BookXcess, a warehouse outlet where I get many children's books at really low prices.
About BookXcess
These are the key information of BookXcess:
Physical stores: in Malaysia, at Amcorp Mall and farenheit88 (right opposite Pavilion Kuala Lumpur)
Online store: BookXcess
By the same people who organise the Big Bad Wolf Bookfairs
With 3 young kids in tow, I've been unable to visit the crazeeee Big Bag Wolf bookfairs where people actually lugged luggages to carry the super-affordable books they grabbed!
So going to BookXcess stores now is good enough for me. I've been to the store at Amcorp Mall a few years back but it was too out of the way for me. Imagine my delight when I discovered the new branch right opposite Pavilion!
My Shopping Spree…
Here are what I bought… Story books for the kids….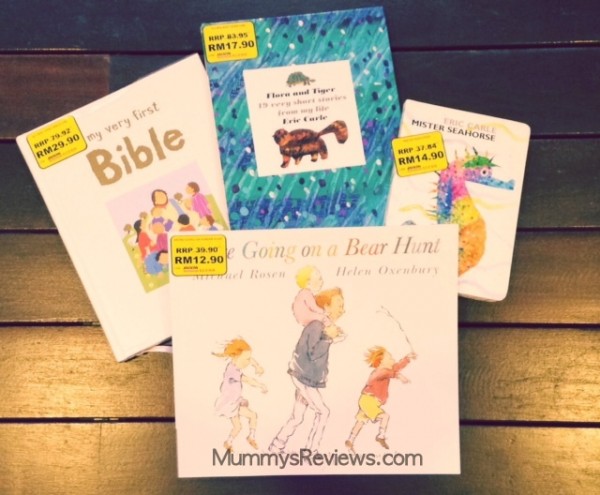 My Very First Bible, RM29.90
Flora and Tiger by Eric Carle, RM17.90
Mister Seahorse by Eric Carle, RM14.90
We're Going on a Bear Hunt, RM12.90
Nearly-3-year old Jae is going through a sticker-craze phase, blasting through 3 sticker activity books within 2 weeks. So I bought 2 more GIANT sticker books for him…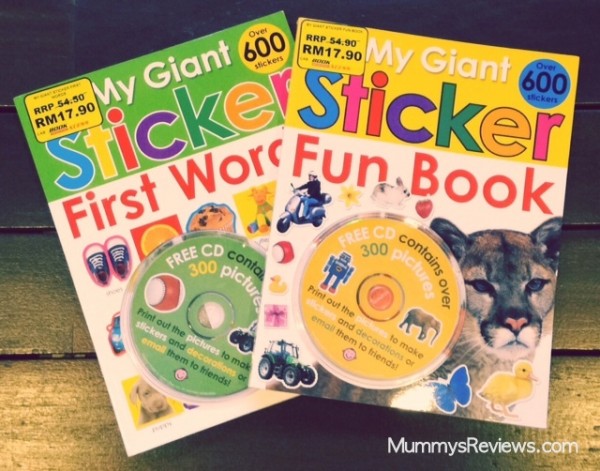 My Giant Sticker First Words, RM17.90
My Giant Sticker Fun Book, RM17.90
Any Roald Dahl fans? This set is a beauty and I love books boxed sets…. bought it during my first visit to BookXcess and it's still on sale now!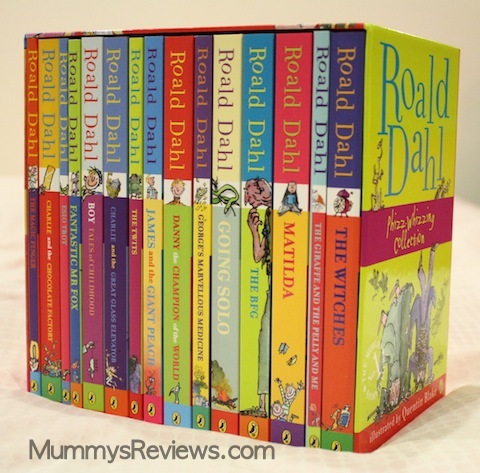 Roald Dahl Phizz Whizzing Collection (Boxed set of 15 books), RM219.90
5.5-year old Vee loves learning about skeletons, so I gathered these books for him…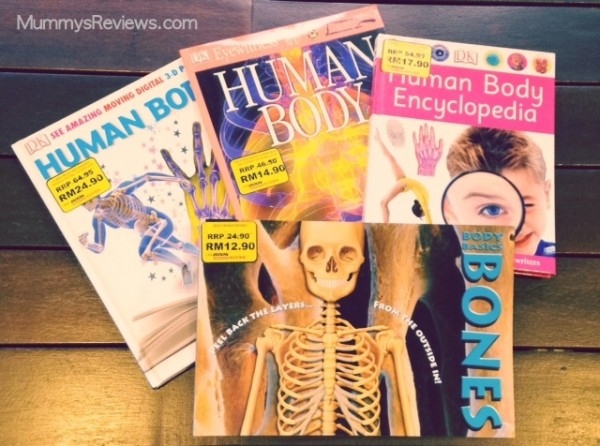 Human Body by DK, RM24.90
Human Body (DK Eyewitness Books), RM14.90
Human Body Encyclopedia by DK, RM17.90
Body Basics: Bones, RM12.90
I like reference books by DK, the illustrations are wonderful. The Body Basics: Bones book has a special layered pages like this…
A dear friend once mentioned the importance of reading up on great historians. Then I found these two gems…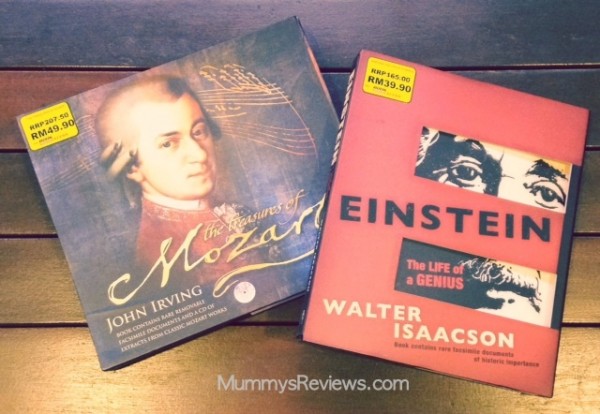 The Treasures of Mozart by John Irving, RM49.90
Einstein: The Life of a Genius by Walter Isaacson, RM39.90
These aren't just wordy books. Instead, there're copies of the historian's documents, score sheets, letters such as this…
Now I need more bookshelves at home!
A Quick Review of the Store at farenheit88
Rating Guide: ★ Oh no!     ★★ Poor     ★★★ Fair     ★★★★ Good     ★★★★★ Excellent!
(a) Range of books: ★★★ With limited time (and money!), I zoomed straight into kids' educational books. The range is ok, since they're from over-production. (That's why the name is called BookXcess… meaning excess books.)
Don't expect to find complete sets of individual books, unless they come in a boxed set. Examples of boxed sets sold are the Roald Dahl collection mentioned, Dr. Suess set, and Thomas Train set.
(b) Organisation: ★★★ There's enough room for me to push a huge stroller around. It's rather easy to get to the section I want since the store isn't too huge.
(c) Service: ★★★★ Most books are in shrink-wrap. I requested to check some books / sets samples that are behind the cashier and the lady was most willing to help me.
There wasn't any sample for The Treasures of Mozart, so she gladly opened a new copy for me to browse through. That copy was a bit squashed, so she got a completely new copy for me. Thumbs up!
(d) Quality: ★★★★ The books are in good condition. Some books (e.g. Eric Carle board books) may have a black marker mark across the top or bottom side, which I didn't mind.
(f) Overall Value: ★★★★ There was a promotion for this trip on top of member discount. Overall, I find the books at attractive prices. (Of course, the cheapest is buying directly from books warehouse outlets such as in the UK.)
BookXcess offers value-for-money books.
—
What we like about it:
Quality books at reasonable prices
Convenient location (i.e. farenheit88 branch)
Good service
What can be improved:
Offer more boxed sets, please (I'm looking for Winnie-the-Pooh Complete 30-Book Set)
When you visit Kuala Lumpur, do drop by BookXcess. Happy shopping for books!
—
Get Your Own (with Discount!)
BookXcess is currently running this promotion:
Special Treat: 7% off + member discount (5% for above RM50; 10% for above RM150)
Validity Period: 8 August to 1 September 2014
For above RM170, you can get to a free copy of "Great Migrations" (with National Geographic's iconic stunning photography!)
—
You may also check the prices at Amazon here:
—
Disclosure: I paid for all my purchases at BookXcess and they have no idea I'm writing about them.
—

*
—
Mummy's Reviews™ is a review site that receives compensation if readers make purchases from affiliate links (these are marked with an *). If we receive compensation from the companies whose products we review, this would be disclosed. These compensation help to maintain and grow Mummy's Reviews™. We test each product thoroughly and give ratings according to our experience with it. We are independently owned and the opinions expressed here are our own.