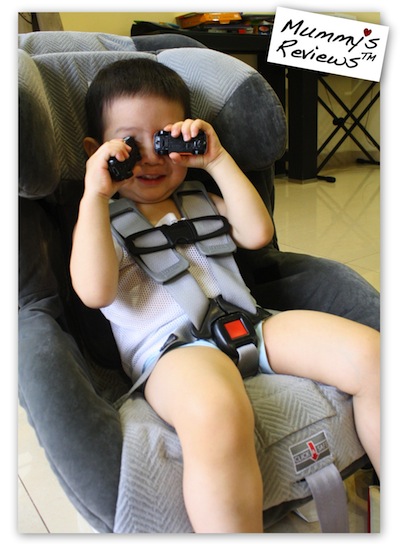 Here's a review of our trusted car seat Britax Boulevard CS, purchased 4 years ago. Jae is our second child to use it, and it's still luxurious and provides solid support.
Our view on car seats
In our family, using a car seat is compulsory. From their infant days, each boy has been placed into a rear-facing infant car seat. I try to let them face backwards for as long as possible until their legs have insufficient place to stretch, or when they hate facing backwards and fuss throughout the trips. This is usually about 1+ year old, though ideally I'd prefer to let them face backwards for even longer.
The general guideline from the American Academy of Pediatrics (AAP) is:
"All infants and toddlers should ride in a Rear-Facing Car Seat until they are 2 years of age or until they reach the highest weight or height allowed by their car seat's manufacturer."
This is a useful article: Car Seats: Information for Families for 2013
Since we drive between Singapore and Kuala Lumpur several times a year, it's important for the boys to get used to sitting (and hopefully sleeping) in their car seats for at least 1-2 hours until we take a break. So we're consistent in ensuring they're buckled in their seats before moving off, and I arm myself with a bag of toys and activities during their babyhood days.
Of course, life isn't always a bed of roses. There have been incidents when the baby is extremely fussy and unable to fall asleep in the car seat, so I've to nurse him or let him fall asleep in the baby carrier first before trying to transfer him into the car seat. I'm always thankful when these difficult episodes are over and we've travelled safely.
Coincidentally, when the boys turned 1.5 years old, they're able to fall asleep easily in the seat or sit peacefully for long stretches simply watching the outside scenery. Phew!
About Britax
"BRITAX has been a leader in mobile safety for more than 70 years, with a legacy of leadership in developing innovations that enhance the safety of child car seats and improve their ease of installation and use.
Our uncompromising focus has made BRITAX the best-selling child car seat in Europe and one of the brands most trusted by American parents and caregivers since entering the U.S. market in 1996.
Our commitment to improving child safety is unparalleled, as evidenced by the fact that our products undergo the most rigorous testing in our industry at five BRITAX testing facilities worldwide.
We also work closely with vehicle manufacturers to encourage design improvements that enhance the performance of child car seats.
In addition, we maintain an ongoing dialogue with consumers, child passenger safety technicians and other child safety advocates to ensure proper installation and use of child seats and develop new ideas to improve their safety and ease of use." (Source: Britax Singapore website)
First Impressions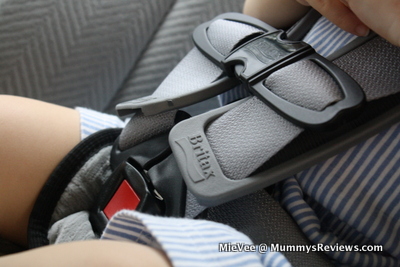 When shopping for the toddler car seat, my priority was a 5-point harness. I've read about the high quality of Britax car seats, so it was rather easy to zoom down onto Britax Boulevard CS in the store we were at.
There were only 2 units left– we took the grey. The fabric felt soooo luxurious!
The entire side view: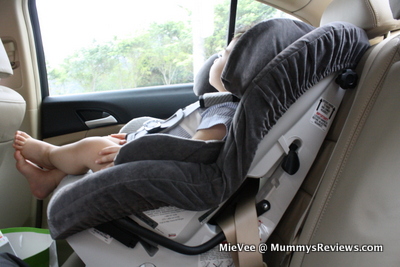 Our Detailed Review
Rating Guide: ★ Oh no! ★★ Poor ★★★ Fair ★★★★ Good ★★★★★ Excellent!
(a) Safety: ★★★★★ I like the 5-point harness and side impact protection: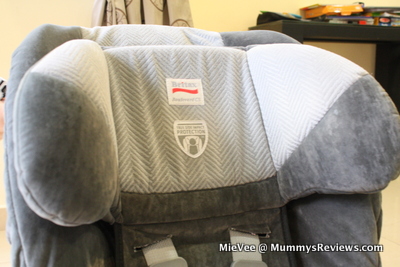 (b) Ease of Use: ★★★★ A rather long seat belt is needed to fix the car seat. When we had to replace our car, we shopped for one that could accommodate this car seat.
Hubby spent only a short while installing it, no complaint. Somehow I'm lousy at figuring out how to install car seats, and he seems a natural. Hmm…
The easy-to-use adjustment knob: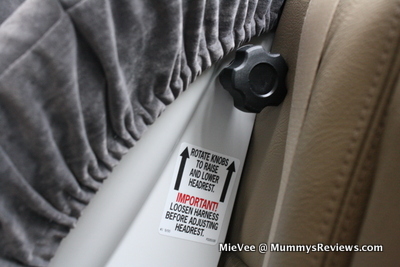 The Click & Safe feature to know when the shoulder strap is tightened enough: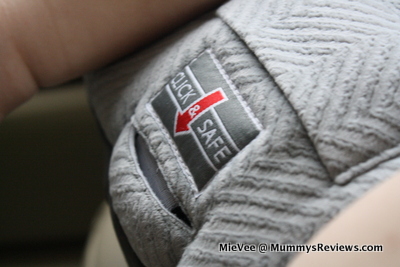 (c) Fit: ★★★★★ It fitted Vee from 1+ to 4 years old. Jae just turned 3 and is still using it.
(d) Comfort: ★★★★★ The fabric is soft and luxurious, like a cuddly teddy bear. The older boys nap well in this seat, and i like to rest against it.
(e) Quality: ★★★★★ The quality is excellent. After 4 years, it's still in great condition, ready to be used with #3 El when he grows into it.
(f) Overall Value: ★★★★ The retail price 4 years ago was RM1999. We bought it at 20% member discount, that's about RM1600. Though a bit on the high side, it's definitely a great investment in our children's safety. I feel very at ease when Jae is buckled up in it, and that is priceless.
—
What we like about it:
Quality made to last
5-point harness
Side impact protection
Comfortable fabric
What can be improved:
Reduce the length of seat belt needed to install this car seat
—
Get Your Own
We bought our Britax Boulevard CS at The First Few Years (parallel import). The Britax distributor in Malaysia is Jingle Box.
Live outside Asia, you may also check the price of the latest Britax Boulevard car seats at Amazon here: Britax Boulevard
*
—
Sharing time: What are your favourite car seats? Do share in the comments section or link up to your review post.
—
Disclosure: We bought our own Britax Boulevard CS car seat.
Mummy's Reviews™ is a review site that receives compensation if readers make purchases from affiliate links (these are marked with an *). If we receive compensation from the companies whose products we review, this would be disclosed. These compensation help to maintain and grow Mummy's Reviews™. We test each product thoroughly and give ratings according to our experience with it. We are independently owned and the opinions expressed here are our own.