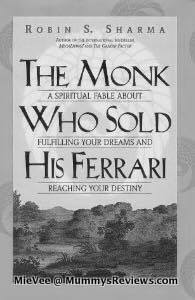 I'm accepting Daisy's invite and starting this series of posts on showing gratitude, through black and white photos.
This book "The Monk Who Sold His Ferrari" has sat on my bookshelf for years. I read it halfway and somehow left it that way till I re-read it again in April.
This time, my mind was ready. The ideas made a lot of sense to me and I was ready to change, for the better.
After decades of being nocturnal, I finally decided to sleep early at around 10p.m.
To get things done in peace, I've to wake up at about 4a.m. I've never thought this was possible until reading this book and knowing that Daisy does this too. (Things just fell into place at the right time.)
Nowadays, I work till 7a.m. then take a nap with little El till he wakes up at ~9a.m. So I still get enough proper sleep instead of over-working at night.
I'm much happier these mornings and ready for the challenges hurled at me throughout the day.
So thanks to the author, Robin S. Sharma and Daisy (who runs Trinity Kids Malaysia, possibly the best playschool in KL)!
~ MieVee
MummysReviews.com
MummysHomeschool.com
P.S. Feel free to start your own gratitude series too. ?
P.P.P. View all this entire series at B&W Gratitude Challenge 2015 here.
—
Get Your Own
"The Monk Who Sold His Ferrari" is available in major bookstores and libraries.
You may also check the price at Amazon here:
>>> Click: The Monk Who Sold His Ferrari: A Fable About Fulfilling Your Dreams & Reaching Your Destiny
*
*
—
Wish to unleash your child's potential? Go to my other blog here:

—
Disclosure: I bought my own book.
Mummy's Reviews™ is a review site that receives compensation if readers make purchases from affiliate links (these are marked with an *). If we receive compensation from the companies whose products we review, this would be disclosed. These compensation help to maintain and grow Mummy's Reviews™. We test each product thoroughly and give ratings according to our experience with it. We are independently owned and the opinions expressed here are our own.