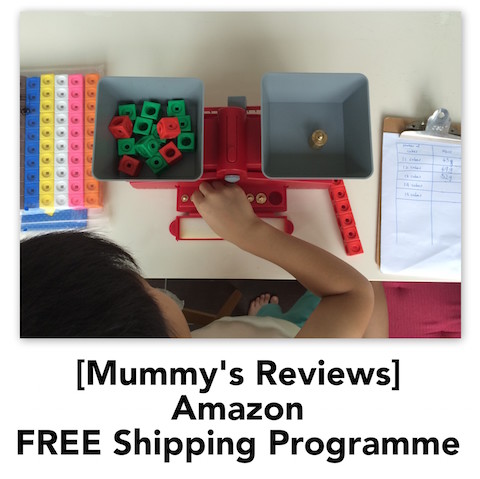 If you're near Singapore and have yet to enjoy FREE shipping from Amazon, this post is just for you. Today, I'm reviewing Amazon* and sharing my shopping tips.
After almost 6 years, I'm still a very satisfied customer. Here's why…
Why I Shop at Amazon?
We reside in Kuala Lumpur (Malaysia) and visit my Singapore home several times a year. Moreover, we do homeschooling and after-schooling, and need a good stash of learning materials, many of which aren't available locally.
About 1 month before each Singapore visit, I'd be sure to check out my Amazon wish list and order all the books, materials and toys that we need.
The product range is huge, prices are competitive, and the best part — FREE shipping to Singapore for eligible orders above USD125!
Our Detailed Review
Rating Guide: ★ Oh no!     ★★ Poor     ★★★ Fair     ★★★★ Good     ★★★★★ Excellent!
(a) Ease of Use: ★★★★ Amazon offers a huge variety of books, toys and learning resources that a homeschooling mum like me needs. Look at this science experiment kit that I bought: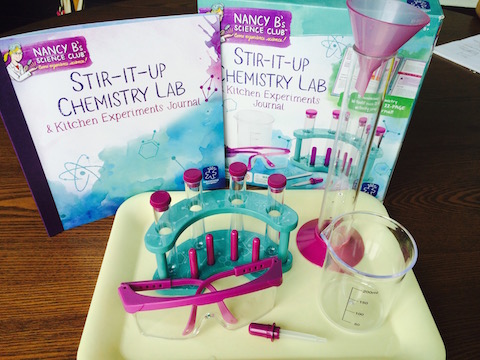 (Nancy B Science Experiment Kit*, USD14.75)
Even with that large inventory listing, I'm able to navigate within the site easily, all the way to checkout.
I always read some reviews before purchases, and it's great that Amazon has enough business volume for generating many reviews for most items.
Tip: Take the 1- and 5-star reviews with a pinch of salt. Usually the more genuine / balanced reviews are those in between.
(b) Pricing: ★★★★ For the items that are available at local stores, the prices at Amazon are often lower (after conversion).
For example, I bought The Code of the Extraordinary Mind at about USD15.51 (about SGD22 or RM64), while it's sold locally at RM79.90. That's a savings of 20%, provided I made use of the free shipping offer to Singapore.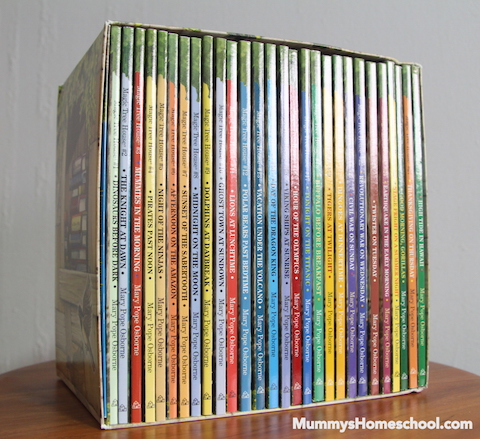 One of our best purchases: This Magic Treehouse Boxed Set* with 28 amazing books at only USD80.55 Amazon. This works out to be USD2.88 (~SGD4 or RM12) per book.
(c) Shipping & Delivery: ★★★★ So far, all except one of my parcels have arrived within the estimated time frame, which is up to 14 working days for the AmazonGlobal Saver Shipping (Singapore).
From 2010 to now, I've made 16 orders!
2010: 1
2011: 1
2012: 1
2013: 2
2014: 5
2015: 4
2016: 1
Delivery is straight to my Singapore home, and the items are professionally packaged with no damage so far.
(d) Customer Service: ★★★★★ For the two times that I remember approaching them, they had swiftly resolved the issues:
1 order reached late. I emailed Amazon and got my shipping fee refunded.
1 order was charged shipping even though it should be eligible for the free shipping programme. Sometimes the shipping calculator may not be accurate, so I learnt this from a good friend — just proceed with the order and email Amazon with your explanation. Indeed they refunded me the shipping charges.
(f) Overall Value: ★★★★ So far, Amazon has provided great value for its huge array of products, competitive pricing and free shipping offer to Singapore. I'm more than happy to continue buying from Amazon and recommend it to my friends.
—
What we like about it:
Wide variety of products
Lots of reviews to help in my purchase decision (take the extreme reviews with a pinch of salt)
Free shipping to Singapore available
Excellent customer service
Effective affiliate programme that helps fund my new purchases
The affiliate programme means when readers click on my blog links to Amazon and make purchases, I get a small commission of about 4%. Because Amazon is truly a great place to shop, readers are happy to shop there, so I receive referral commission to offset purchases for our homeschooling materials.
(If you've been supporting us by clicking our referral links, thank you very much!)
What can be improved:
Include free AmazonGlobal saver shipping for more countries, especially Malaysia (pleeeease!)
—
Get Your Own (try to get FREE shipping!)
To get your own books, toys, learning materials, etc., visit Amazon* here.
Check out details of the FREE AmazonGlobal Saver Shipping here*. To be eligible, I always check that the items are either "sold by Amazon" or "fulfilled by Amazon". (Those fulfilled by third-party vendors are not eligible.)
—
P.S. Check out my list of recommended learning materials for 3 to 6 years old here: Mummy's Homeschool materials list.
—
Disclosure: Mummy's Reviews™ is a review site that receives compensation if readers make purchases from affiliate links (these are marked with an *). If we receive compensation from the companies whose products we review, this would be disclosed. These compensation help to maintain and grow Mummy's Reviews™. We test each product thoroughly and give ratings according to our experience with it. We are independently owned and the opinions expressed here are our own.