Parents Club: Smart Parenting Tips & Reviews Sent to Your Inbox

What's Mummy's Reviews™ Parents Club?
It's an extension of Mummy's Reviews™, the site where I write about product reviews and parenting tips. The club keeps busy parents like you updated on my articles and gives you exclusive access to parenting resources.
Who Should Join?
If you're a parent with a baby or toddler age 0 to 3 years old, then Parents Club is for you. Since I reside in Malaysia and Singapore, my articles are most suited to Asian parents. Of course, much parenting-related information is universal.
Why Join?
The key Parents Club benefits for you are:
It brings the connection between us a huge notch better. Parents Club delivers my reviews and tips straight into your email inbox, allowing you to "flag" them for future reading, organise them into folders, and tag them according to topics — effective for future referencing. Many Mummy's Reviews™ Facebook Page fans (over 2,100 now!) miss my updates because there're too many feeds from all their contacts. (And if Facebook suddenly disappears some day, I won't know how to update you.)
It provides a better reader experience for you than RSS feed (which you may currently read via email or an online reader). The email software that I've invested in for Parents Club enables better control over email layout and other functions. Through its analytics, I'd know the type of topics you love, and write more about them in future. This means you can be involved in improving Mummy's Reviews™.
You get exclusive privileges such as parenting resources, giveaways and discount codes.
You get a FREE eGuide when you join now (see below).
Usually, you'd receive 1 to 2 emails a week. Could be less and hardly more, since I'm also a busy full-time Mummy home-schooling 5-year old Vee, 2-year old Jae and looking after baby El. Each email would include carefully-written reviews or tips — only information worth your time reading. Expect an occasional extra email for your exclusive resources.
Free 21-Page "Baby's Head Start Guide for Parents"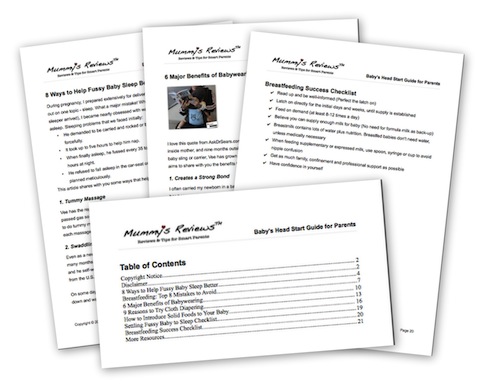 This guide compiles 5 of my selected articles covering baby's sleep, breastfeeding, cloth diapering and more. Even if you may have read some of the articles previously, the PDF guide provides a handy reference for your next baby. You may also give it away to a pregnant girl-friend, saving her HOURS of researching (like many of us did for our first baby).
This guide is exclusive to Parents Club members and will be available for a limited time only. Once the next free guide is ready, this guide would not be given away anymore.
Best of all, when you join Parents Club now, you'd get "Baby's Head Start Guide for Parents" plus ALL free guides published in future.
How to Join
Simply submit the form below, click the confirmation link on the next email, and you're in the club! And yes, membership is free. See you in the club!
Cheers, MieVee