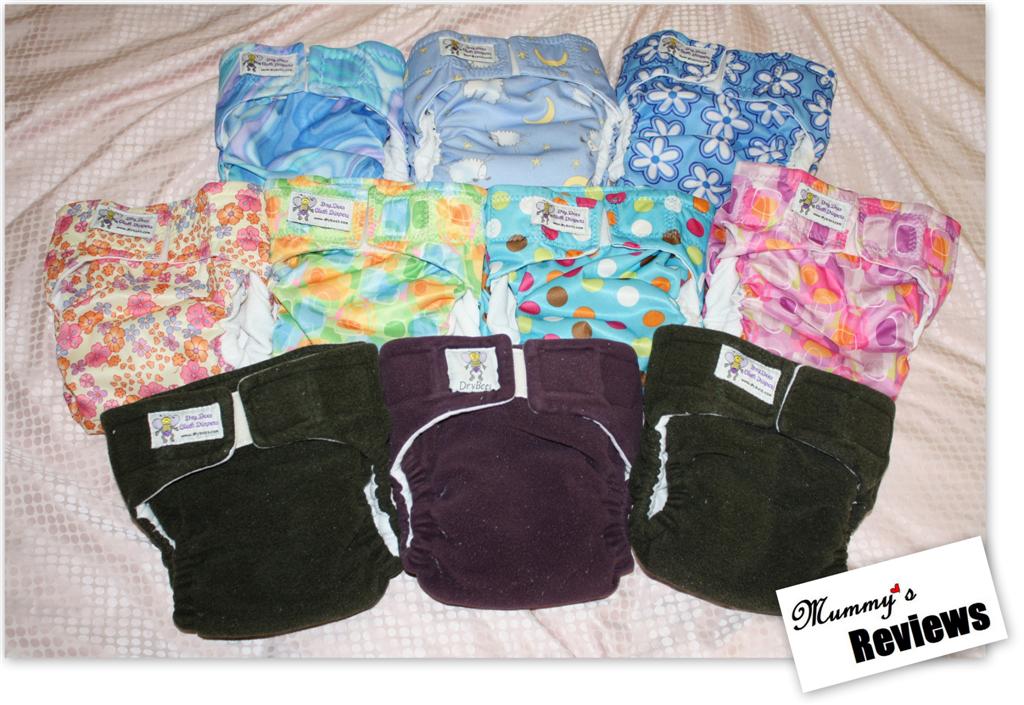 My first foray into the world of modern cloth diapers (CDs) began during the second trimester of pregnancy, when I came across a brochure marketing a brand of washable one-size pocket diapers with snaps. I viewed the diapers in the shop and was impressed by the innovation! My husband was convinced almost immediately too.
After searching online for more information, I was overwhelmed by the vast array of options available and soon became hooked to reading up on cloth diapers through the rest of my pregnancy before making my first order from Sandra at Mia Bambina and then Abby at Babe Hause. I still remember the excitement when anticipating the parcels containing beautiful Drybees pocket diapers.
After almost 2 years of cloth diapering Vee, here are the top reasons to love these diapers:
For Baby
1. Healthy for skin
With cloth diapers, parents can rest assured that no potentially harmful chemicals such as bleach and fragrances is in touch with baby's sensitive skin. Diaper rash may occur less frequently for babies with sensitive skin. When they occur, breathable cloth diapers allow them to clear up much faster. Since cloth diapers are already paid for, there's no incremental cost to diaper changes, so parents tend to change baby more often (every 1-3 hours). This also helps to keep baby's skin clean and fresh.
2. Comfortable
Modern cloth diapers come with a variety of stay-dry fabrics such as suedecloth and microfleece that wick moisture away from baby's skin. This helps to keep baby dry and comfortable, so that diaper changes may not be needed right after each pee. Fantastic for naps and overnights.
3. Excellent Performance
In the early months, breastfed Vee produced super-explosive poo that could easily overwhelm any new mother. Modern cloth diapers have strong and lasting elastics that hold the poo in very well.
4. Adjustable Absorbency to Last Through The Night
Vee is a super-heavy-wetter who pees through even premium disposable diapers. Fortunately, modern cloth diapers have adjustable absorbency that can last him through the night. At the same time, his night-time cloth diapers are breathable and keep his skin dry and healthy each morning.
5. Attractive
Modern cloth diapers are available in a range of cute designs and prints that are enough to make heads turn. Vee looks so good in cloth diapers that I save quite a sum from buying shorts and pants.
For Mummy & Daddy
6. Economical
There are various cloth diapering options to suit different lifestyles, preferences and budget. In general, 15 one-size pocket diapers with inserts would cost about S$450 (S$1 is about US$0.73), a reasonable stash for a baby until toddlerhood. Moreover, good quality diapers can be passed down to future children for even more savings!
7. Easy Laundry
Washing cloth diapers is actually much easier than what many people think. Depending on personal preferences, they can even be washed with baby's clothes in a single washing machine load. If you stay in a tropical climate, the diapers dry relatively quickly under the sun.
8. Convenient
Using cloth diapers means no more running out of diapers, no need to carry bulky packages of disposable diapers, and no need to store bulky packages in the house. It's absolutely convenient!
For Mother Earth
9. Saves Landfill Space
If baby needs 6 diaper changes a day for 3 years, that means potentially 6,570 disposable diapers added to the landfill! And that's for ONE baby. Imagine how many babies there are… The benefit of using cloth is obvious.
Check out my reviews and tips on cloth diapers and related accessories to help you make informed choices. If you need my input after going through the articles, feel free to drop me a comment or email. Happy diapering!
Cheers,
MieVee
—
P.S. Catch all my cloth diapering tips here.